Horrific video shows man shooting another while carrying little girl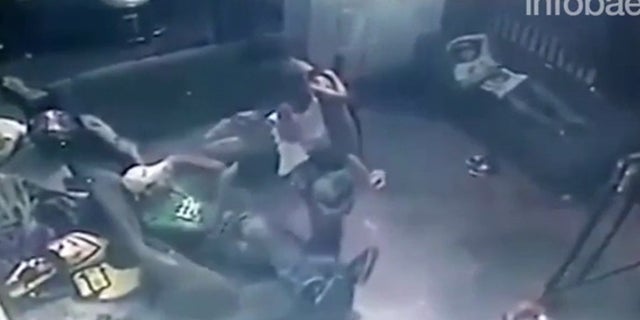 A 20-second security camera video is leaving a lasting mark on viewers around the world for its horrific content.
A man in Minas Gerais, Brazil enters into a room carrying a little girl on his left arm. One man is lying on a sofa, apparently asleep, another one is sitting on the couch across him. A few other people can be seen in the background in what looks like an office environment.
Then the man with the girl walks to the one sitting, draws a gun and calmly shoots him once in the head. They appear to exchange a word or two before the inaudible shot.
After pulling the trigger, the man turns around and walks away.
The little girl, not older than 4, watches the whole thing but the blurred image from the video doesn't capture her reaction.
Police believe she is the killer's daughter but have not yet been able to identify the man, who remains a fugitive.
The victim was a motorcycle taxi driver and had a criminal record for drug trafficking, police said. Investigators suspect he may have been killed to settle a drug dealing dispute.
According to the Brazilian Public Security Forum, homicides claimed more lives in Brazil than Syria between 2011 and 2015 - 278,839 in Brazil, 256,124 in Syria.