Hong Kong arrests 33 in protest against Chinese shoppers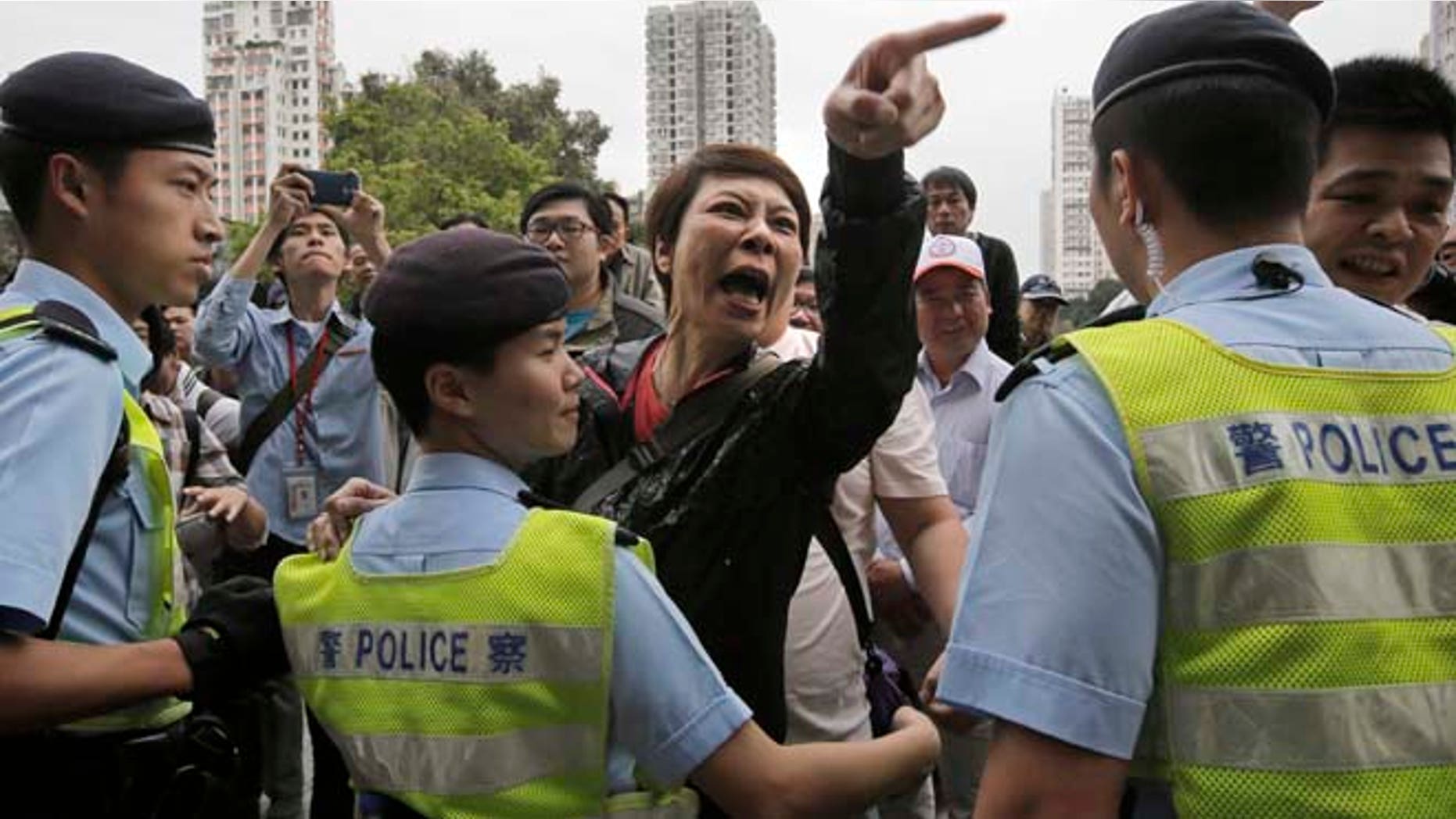 HONG KONG – Hong Kong police arrested nearly three dozen people Sunday after scuffles broke out at a protest in a border town, in the latest example of heightened tensions over the growing influx of mainland Chinese shoppers in the city.
Police officers wielded batons and used pepper spray on the crowds after the demonstration turned unruly, as demonstrators clashed with crowds of village residents opposed to the event who taunted them along the route.
Police said 33 people were arrested, including a 13-year-old boy.
Hundreds turned out for the latest protest to target the mainland shoppers, who have been blamed for voracious buying habits that distort the local economy.
The protesters marched in the suburban district of Yuen Long, near the border with mainland China, in a neighborhood where there are dozens of pharmacies selling baby formula to cater to mainland shoppers.
Numerous food safety scares in China have made baby formula a hot commodity for mainland visitors to Hong Kong, which has a reputation for authentic and high-quality goods. The protesters complain that the mainlanders' shopping sprees drive up retail rents and force out ordinary shopkeepers.
"There is a lot of anger from other people on Chinese smugglers because we just don't like how they drive up all the prices, drive up everything, create a lot of chaos, and we aren't benefiting from it," said protester Kelvin Lee, who was with Hong Kong Indigenous, one of the two groups that organized the demonstration.
He said residents of the suburban towns were fed up with the traffic jams and piles of garbage created by the mainland Chinese shoppers. Last year, 47.3 million people from mainland China visited Hong Kong, a specially administered Chinese region that's home to 7.3 million people.
Many shopkeepers rolled down their storefront shutters ahead of the protest and few mainland Chinese visitors were seen on the streets, drawing complaints from local residents.
"They've made it so that everyone has had to close up shop, and they can't do business. People have to pay rent," said Choi Wai-leung, 61.
There have been at least two other rowdy shopping protests in Hong Kong's suburban towns this year, including one last month inside a shopping mall.
Cosmetics, medicine and luxury goods are also popular purchases in Hong Kong, where a lack of sales tax makes them cheaper. The shoppers often work for shadowy networks that organize the resale of the goods across the border for a profit, in what's known as parallel trading.