Hometown of students caught in ferry disaster observes somber Easter Sunday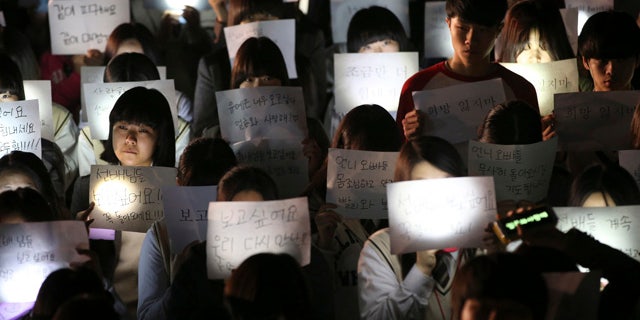 Crowds of worshipers gathered Sunday morning at the Ansan Jeil Church, a modern, glass-walled building with a curved exterior inspired by Noah's Ark. The 15,000-member Presbyterian church, which was rebuilt in 2012, has been serving citizens of Ansan for over 50 years.
This Easter Sunday, its doors were open to offer spiritual guidance to residents of the city that has just suffered a tragedy on an unseen scale.
"Today is Easter Sunday, a day of celebration. But instead of joy, our hearts are filled with sadness. Our young ones are still trapped in the ship. God, please give us mercy," Pastor Go Hun said during his sermon, his voice wavering emotionally as he prayed for the fate of the hundreds of high-school students still missing.
South Korea is one of the most Christian nations in Asia.
The Ansan Jeil Church is about a 20-minute walk from Danwon High School, which sent most of its second-year class of 338 16-year-olds and 17-year-olds for a trip on the ill-fated Sewol ferry that sank last week.
Pastor Go's sermon was interspersed with hymns sung by a 130-member choir accompanied by a quartet of cello, violin, viola and flute. As he voiced his anger toward the ship's crew who prosecutors arrested for escaping the ship before the students, some worshipers sobbed and held their hands over their face.
"The sea. The cold sea of Jindo. Why, why have you drowned our innocent sons and daughters with your water?" he said.
Another pastor of the church in charge of education, Park Byeong-ju, told The Wall Street Journal that 10 of the missing students belonged to the church.
"We have sent our members to Jindo to offer assistance of the family members waiting for the return of their children," he said. One of the missing children had lost his parents when he was young, and was brought up by his grandmother. He said church members were taking care of the woman, providing her food and company.
While the church will serve food and hand out Easter eggs to worshipers, he said it was also going to collect letters of support from members to be sent to families of the students.