Home surveillance shows Aaron Hernandez on the night of the killing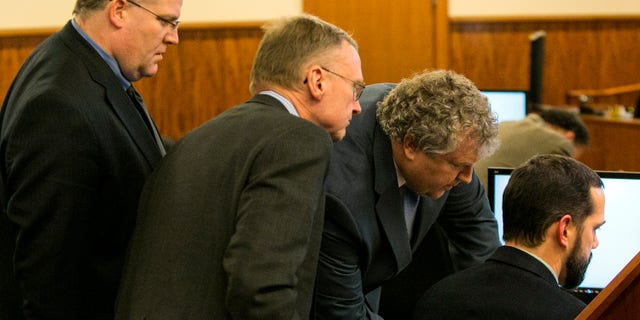 FALL RIVER, Mass. (AP) – Home surveillance video in the murder trial of former New England Patriots player Aaron Hernandez shows him holding what prosecutors say is a gun and leaving his house with two co-defendants hours before the killing.
Hernandez is accused of the June 17, 2013, killing of Odin Lloyd, who was dating the sister of Hernandez's fiancee.
Surveillance video played Monday shows him walking through the living room carrying a black object at about 12:45 a.m. A baby sitter there testified that she didn't see the object.
Video shows Hernandez leaving at 1:09 a.m. with two co-defendants. Prosecutors say they went to pick up Lloyd, and he was dead by 3:30 a.m.
The murder trial of former New England Patriots player Aaron Hernandez resumed Monday with a state police crime lab scientist testifying about an item – a marijuana joint – found at the crime scene that had DNA from both Hernandez and Lloyd.
The joint was found not far from the body of Odin Lloyd, who was shot to death in June 2013 in an industrial park near Hernandez's home.
Diane Fife Biagiotti testified on Monday that the results were consistent with two people sharing the joint.
But she said she could not tell from her testing when DNA from Hernandez and Lloyd got on the smoked joint, or where.
She also said it was possible one person licked the rolling paper and the other person smoked the joint.
Like us on Facebook
Follow us on Twitter & Instagram