Hollande victory could impact US markets this week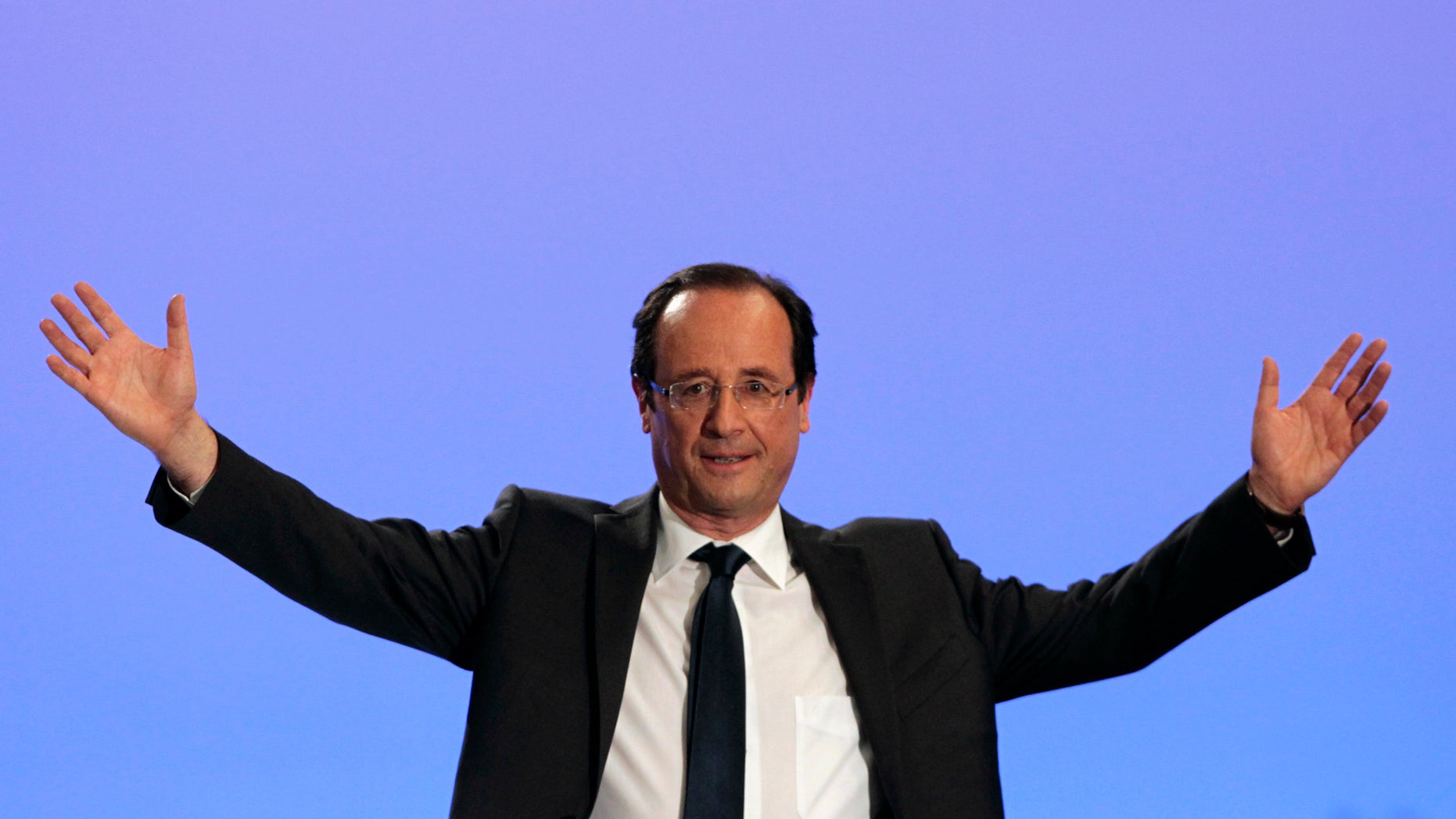 WASHINGTON – A strong showing by Socialist candidate Francois Hollande in the first round of France's presidential election Sunday may rattle U.S. and global financial markets in the coming weeks.
Hollande wants to renegotiate a European treaty, agreed to just last year, intended to limit excessive government spending. He wants the pact to emphasize growth over austerity. He has also promised to roll back some deficit-cutting reforms put in place by his opponent, current President Nicolas Sarkozy.
Many economists fear that those steps would upset the delicate cooperation with Germany that has been key to Europe's response to its financial crisis. Sarkozy has formed a partnership with German chancellor Angela Merkel on Europe's debt crisis, so close that many commentators refer to them as "Merkozy."
"Europe is not `fixed' yet, but if you have France and Germany agreeing on certain policies, that makes it more likely they will fix it somehow," said Jay Bryson, global economist at Wells Fargo Securities. Disagreement between the countries' leaders raises the risks that Europe's crisis could worsen, he said.
Hollande finished just ahead of Sarkozy out of a 10-candidate field. They will face off May 6 in the final round of voting. Sarkozy is struggling to avoid becoming France's first one-term president since 1981.
Hollande is a 57-year-old career politician and party boss who has never held a high-ranking position in French government. He led the Socialist Party during its last two presidential defeats, including in 2007, when his former partner, Segolene Royal, lost to Sarkozy.
Like most of Europe, France's economy is struggling and jobs are one of the top issues on voters' minds. The International Monetary Fund forecasts the economy will barely expand this year. The unemployment rate is nearly 10 percent.
France's election results come as the European debt crisis has flared again after months of relative quiet. Many analysts question whether Italy and Spain can stick to steep budget cuts and labor market reforms that they have promised to get their finances in order and jump-start economic growth.
Europe's financial problems have repeatedly roiled U.S. stock markets in the past two years. The European Union is the United States' largest trading partner and a financial meltdown in the region would cut into U.S. exports and reduce factory production. U.S. banks would also likely pull back on lending to preserve cash in response to a worsening financial crisis.
Italian and Spanish bond yields, after falling earlier this year, have risen in recent weeks. That indicates investors see the bonds as riskier and are demanding higher rates to buy them.
The renewed fears about Italy and Spain make it a particularly risky time for France and Germany to disagree over how to resolve the debt crisis, economists said.
"It raises uncertainty, and markets never like uncertainty," Bryson said.
That increased risk, in turn, makes it more likely that investors in the U.S. and around the world will shift money to safer assets -- U.S. and German government bonds, for example -- and away from riskier holdings, such as stocks.
Bonds from highly indebted European countries, such as France, Italy and Spain, are also likely to take a hit. Hollande's campaign promises, such as his commitment to lower France's retirement age, could worsen the country's budget deficit.
And his pledge to raise the top tax rate for the wealthiest in France to 75 percent would slow the country's economy, economists say. That would make it harder to generate the tax revenue to pay off its debts.
Hollande also uses anti-free market rhetoric that could also alienate investors. In a rally last week, he pledged to be a president "stronger than the markets, stronger than finance."
There are already some signs that investors are worried about the election's ultimate outcome. Dan Greenhaus, chief economic strategist at BTIG, an institutional brokerage, said that yields on France's 2-year bonds have jumped in recent weeks.
Currently, 10-year French government bonds yield about 3 percent, Greenhaus said, after creeping up a bit recently. That's much lower Italian and Spanish 10-year debt, where yields are just below 6 percent. But the gap between French and German bond yields has widened steadily since last summer.
"Nervousness about the election is clearly having an effect," he said.
Still, Jeffrey Bergstrand, a finance professor at the University of Notre Dame, said the possibility that financial markets will drive up France's borrowing costs will limit Hollande's ability to sharply disagree with Germany or radically depart from Sarkozy's policies.
"He can't go rogue," Bergstrand said. "There's too much on the line."
The timing of the market's reaction is also uncertain. Most investors expected Hollande would edge out Sarkozy and that the two would face each other in the run-off election, Greenhaus said. Since Sunday's results met those expectations, the initial market reaction may be limited.
One result that wasn't forecast was the strong showing by far-right candidate Marine Le Pen, who ran on an anti-immigrant platform aimed mostly at Muslims. She captured 19.2 percent of the vote.
Those voters may be more likely to support Sarkozy in the second round, rather than Hollande, Bryson said. That raises Sarkozy's chances, Bryson said, "and that's the market's preferred outcome."
A stronger combined showing by Hollande and a far-left candidate, Jean-Luc Melenchon, would have unnerved markets more in the short run, he added.