Hispanic workers at B&H store to unionize as claims of unfair labor conditions persist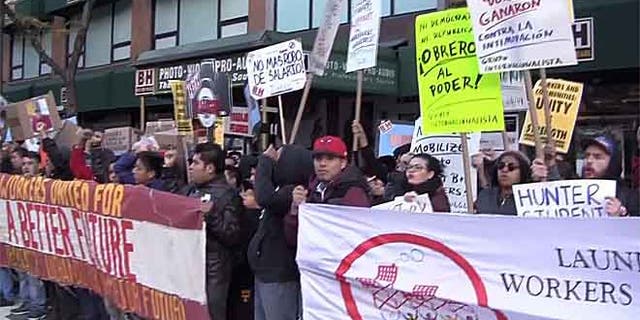 NEW YORK – B&H, the largest non-chain photo and video equipment store in the United States, is once again feeling the pressure of its Hispanic workforce, which is now threatening to unionize.
Around 240 Latinos work in two B&H warehouses in Bushwick and in the Brooklyn Navy Yard.
The decades-old store, owned and operated by Hasidic Orthodox Jews in Midtown Manhattan, has had a rocky relationship with employees since 2007, when it was first hit by a discrimination lawsuit brought on by Hispanic workers who claimed they were paid less than the rest and were denied promotions because of their ethnicity.
That case was eventually settled with $4.3 million, and was then followed by two other similar lawsuits on 2009 and 2011 — one of them filed by four women claiming the store refused to hire them.
But the abuse allegations have continued and earlier this month a majority of the warehouse workers agreed to be represented by the United Steelworkers union.
Last week, during a demonstration held in front of one of the B&H stores by some 300 workers, a lawyer representing many of them delivered a letter addressed to B&H's CEO and president, Sam Goldstein, asking the Steelworkers Union be acknowledged as the "sole and exclusive bargaining representative of the employees," according to the New York Times.
The lawyer, Kristina A. Mazzocchi, told the Times that more than 80 percent of the warehouse employees have formally agreed to be represented by the Steelworkers.
Fox News Latino reached out to B&H for a comment on the matter and is waiting to hear back.
During the demonstration, the protesters said they are forced to work 17 hour-long shifts, with no lunch breaks, and are poorly compensated.
One of them, Raul de la Cruz, said he is harassed and mistreated at the workplace simply because he is Hispanic.
"I am constantly verbally insulted," he told Fox News Latino. "What we want is to be able to unionize, so that our concerns can be heard."
This was the first protest organized by B&H Hispanic workers in its 42-year history. Their petition to unionize has not yet been granted, but they say they plan to continue to organize themselves and protest until their demands are met.
Mazzocchi said in her letter that if the company doesn't act on the workers' complaints, she and other lawyers will file 180 separate claims with the Equal Employment Opportunity Commission.
Rosana Rodriguez, a member of the Laundry Workers Center, joined the protest because"the workers do not have the proper health care and are not taught how to operate the machines."
She also said many of them have suffered serious injuries and have not received the proper treatment.
"The workers work incredibly long hours, and are not even given a lunch break and are even rushed when they use the restroom," she added.