Hispanic Heritage Month: At 91, Latino Broadcaster Lives for Baseball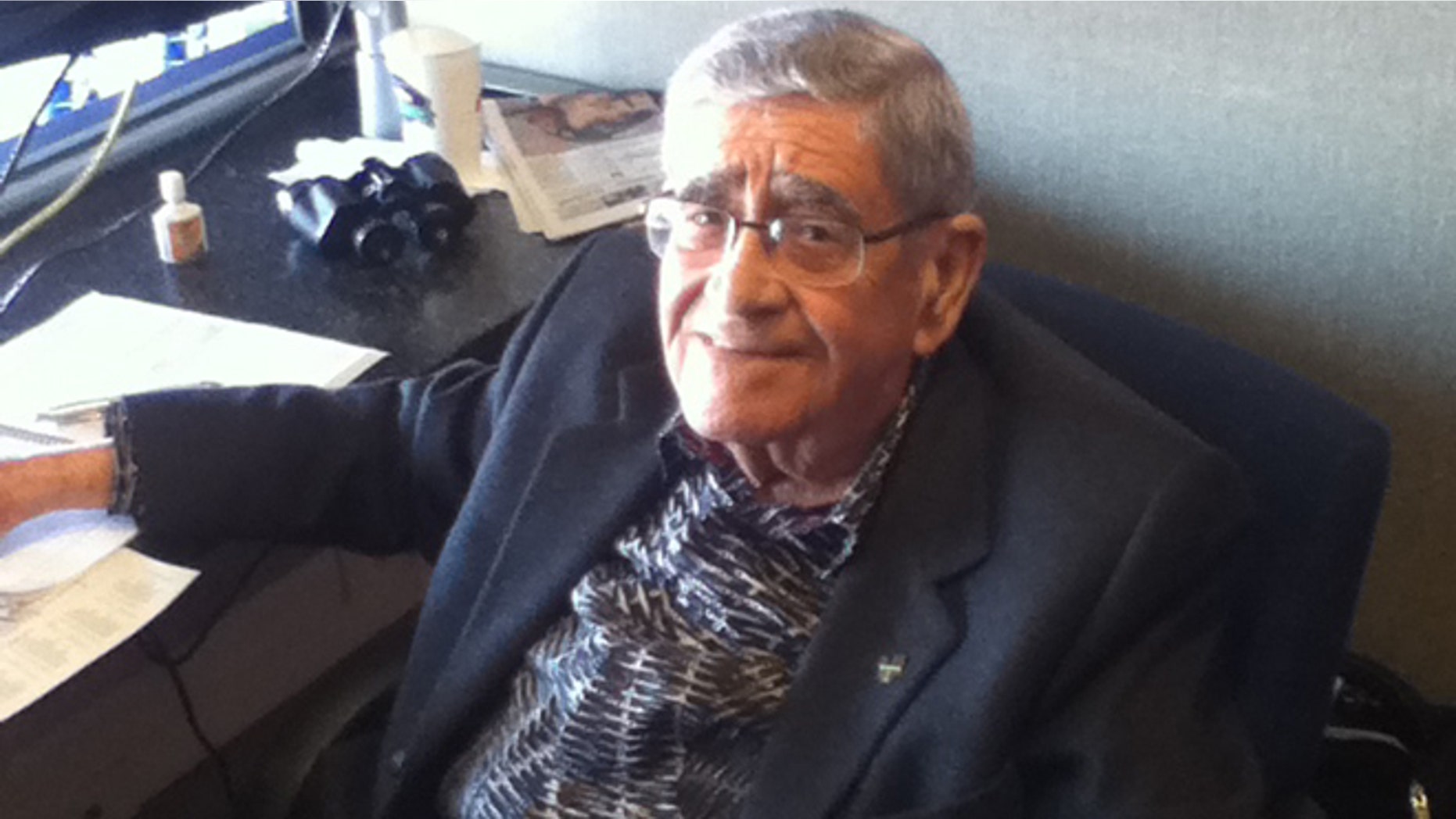 PHILADELPHIA – For almost seven decades, the microphone has been Rafael 'Felo' Ramírez's best friend, allowing him to reach the homes of millions of Latino radio listeners and television viewers going all the way back to 1949.
As he concluded prepping his notes prior to a recent Miami Marlins game in Philadelphia a week ago with his fellow partner Yiki Quintana nearby, the Hall of Famer told Fox News Latino that he'd like nothing more than to have a mic be with him on the day he dies.
"I intensely live through baseball. Frankly, it is my life and I say all the time that I'd like to die next to the microphone, really, because I really adore it, because I love it," said Ramírez, who is now in his 20th season as the Spanish-speaking voice of the Marlins.
The 91-year-old broadcasting lifer left Cuba in 1962 for Venezuela after having spent nine years calling games on CMQ radio in his homeland, and has since narrated the action while living in Puerto Rico, Mexico and now the United States. He's called over 30 World Series and described unforgettable moments such as Don Larsen's perfect game, Hank Aaron's 715th homer and Roberto Clemente's 3000th hit.
Ramírez marveled at what he's been able to relay through his spoken words behind the microphone especially at the level he's been fortunate to have done so.
"I never remotely thought about becoming a regular play-by-play man in the major leagues and much less one for the Hall of Fame," Ramírez admitted.
"But those were incredible surprises for me and the amount of friends that have always encouraged me. It's something that I have to consider as something that has been a great part of my life and that has really helped me do things within (broadcasting)," he added.
Ramírez along with Los Angeles Dodgers longtime Spanish radio announcer are the only two Latino's whose plaques grace baseball's museum in Cooperstown, N.Y for their contributions as broadcasters.
Inducted in the summer of 2001, Ramírez thought that congratulatory phone call was nothing but a friendly hoax from one of his longtime buddies.
"Well when they called me to tell me (of the induction) I thought it was one of my friends playing a prank because it was absolutely incredible. It was really great. It was the surprise of my life," recalled Ramírez
The only low point of his success has been being away from his family all the time.
"It's the worse thing that can happen to one. Family is family. It's something that I've had to suffer carrying inside me."
Baseball isn't the only thing Ramírez is remembered for. His biggest fans and most loyal listeners can remember him call some of boxing's biggest fights.
"I think there are a lot of people that have closely followed my career believe that I describe boxing better than baseball. … All of the great fights that were part of the journey when the real boxing greats paraded," he said. "(Muhammad) Ali and all of those great boxers – I had immense pleasure of transmitting those fights right from ringside fully enjoying it."
This season Ramírez has been apart of a long and trying season for the Miami Marlins, who have had arguably the most disappointing season in baseball this year.
But even though he's had a front row seat to baseball history for almost 70 years, the game still manages to surprise him every once in a while.
Marlins outfielder Giancarlo Stanton's home run hitting power has impressed him. His power 'reminds me of the great Mickey Mantle,' Ramirez said.
Losing season or not, Ramírez can't wait until the home plate umpire yells 'play ball' on Opening Day next season.
After all, he said, "Baseball is my life."
Follow us on twitter.com/foxnewslatino
Like us at facebook.com/foxnewslatino