Hezbollah Prisoner Held by Iraq Faces Minor Charge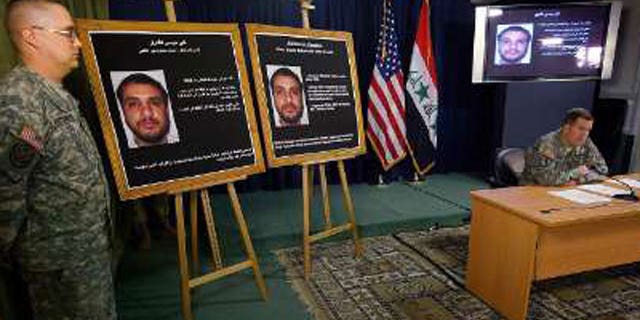 BAGHDAD – A Lebanese Hezbollah commander allegedly responsible for killing four U.S. soldiers in Iraq will be prosecuted for a lesser charge of illegal entry with a forged passport, Iraqi officials said Saturday.
Ali Musa Daqduq was the last American prisoner in Iraq and was handed over to Iraqi authorities on Friday.
On Saturday, two Iraqi officials said Daqduq will be prosecuted for illegal entry with a forged passport -- the only Iraqi charge against him. The charge generally carries a sentence of just over five years in prison. But the officials say an investigative judge will consider U.S. allegations against him. The officials spoke on condition of anonymity because of the sensitivity of the matter.
Daqduq has been linked to a brazen raid in which four American soldiers were abducted and killed in the Iraqi holy city of Karbala in 2007.
U.S. officials have long feared that the Iraqis would release Daqduq once he had been transferred from American control and U.S. troops left the country. But his case was complicated by issues of international diplomacy and the American political debate over how best to prosecute suspected terrorists.
Under former President George W. Bush, prosecutors had planned to charge Daqduq in a U.S. criminal court. But those plans were scrapped after President Barack Obama took office and lawmakers began restricting his ability to bring terrorist suspects into the United States for trial.
Many Republicans had wanted Daqduq prosecuted before a military tribunal at the Guantanamo Bay base in Cuba. The Obama administration had hoped a compromise would be to prosecute Daqduq in a first-of-its-kind military commission on U.S. soil.
But the Iraqi government would not let the United States take Daqduq out of the country for trial, White House spokesman Tommy Vietor said.
Iraq has had a shoddy record on detainee security. Last year, just a week after the U.S. turned more than 1,000 detainees at its Camp Cropper prison over to Iraqi control, four al-Qaida-linked detainees escaped. An investigation showed that the detainees had inside help.
That had lawmakers worried that Daqduq would return to Hezbollah soon after his transfer. Shortly before the White House announcement, Sen. Mark Kirk, R-Ill., was gathering signatures on a letter to Obama.
Sen. Saxby Chambliss, R-Ga., vice chairman of the Senate Select Committee on Intelligence, accused the Obama administration of "once again completely abdicating its responsibility to hold on to deadly terrorists."
"Given Iraq's history of releasing detainees, I expect it is only a matter of time before this terrorist will be back on the battlefield," he said.
Vietor said a trial at Guantanamo Bay was never an option, either for the Iraqis or for the administration.
"The policy of this administration, because we believe it's in our national security interest, is to close the detention facility at Guantanamo Bay, not add to the population," he said.