Head of Venezuelan congress says he'll sue news outlets for reports of drug cartel ties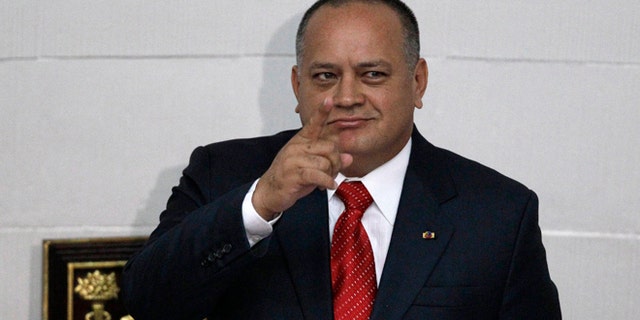 NEWYou can now listen to Fox News articles!
CARACAS, Venezuela (AP) – The powerful head of Venezuela's congress announced Tuesday that he is suing several news outlets for publishing reports linking him to the drug trade.
National Assembly chief Diosdado Cabello said he will file a lawsuit against the outlets that published stories in January saying his bodyguard had defected to the United States to testify that his former boss heads a drug ring of political and military officials.
Cabello, who is the second most powerful figure in Venezuela's ruling socialist party after President Nicolás Maduro, has denied any ties to the drug trade.
The announcement on his Twitter account said he would sue the large Venezuelan newspaper El Nacional, the Venezuelan weekly Tal Cual and the popular online news site La Patilla as well as the Spanish newspaper ABC, which first published the report.
Critics of Venezuela's government immediately condemned the lawsuit as part of what they say is a broad strategy of censorship and suppression of free expression.
The head of El Nacional, Miguel Otero, said the newspaper would not change its editorial stance as a result of the suit. El Nacional is widely seen in Venezuela as the last traditional media outlet that sometimes takes an anti-government stance.
La Patilla editor Alberto Federido Ravell said the website would stand up for itself and face whatever charges might ultimately be leveled.
Cabello had previously said he would sue ABC to force the newspaper to provide proof of his alleged ties to drug cartels.
Cabello has confirmed that his one-time bodyguard, Leamsy Salazar, defected to the U.S. last winter and has acknowledged that his former employee may be cooperating in a prosecution that would name Cabello as head of a drug ring. But he denies any involvement in the drug trade and calls the accusations slander orchestrated by the right wing.
U.S. officials have long accused top Venezuelan political and military leaders of complicity in the drug trade, but have declined to comment on this case.