Hawaii 'lost sailor' is making up parts of survival story, Taiwanese official says
An American woman from Hawaii -- who's been dubbed a "loopy lady" by Taiwanese media -- is not telling the truth about her interactions with a fishing boat from the country, its Ministry of Foreign Affairs says, pouring even more cold water over her tale of survival in the Pacific.
Jennifer Appel told NBC last week the Taiwanese sailors who towed her and Tasha Fuiava to safety after the pair drifted in the ocean for months were initially trying to kill them.
"We are not certain why they made such ungrounded accusations," spokesman Andrew Lee told reporters during a press conference Tuesday, according to the Focus Taiwan News Channel.
Appel, who said she intended to sail from Hawaii to Tahiti, also said the Taiwanese vessel was purposely ramming them, although she didn't explain why.
"The Taiwanese fishing vessel was not planning to rescue us," Appel said. "They tried to kill us during the night."
Lee, citing data from Taiwan's National Rescue Command Center and the Fisheries Agency, said the speeds and positioning of the boat, called the Feng Chun No. 66, prove it never rammed Appel's sailboat.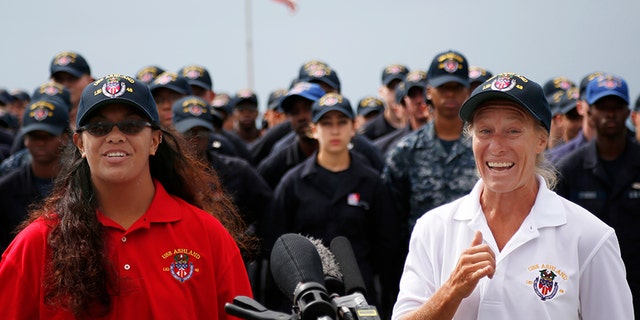 He said the allegation was "groundless and deviates from the truth," the Focus Taiwan News Channel reported.
The Taiwanese ship discovered the two women and their dogs on Oct. 24, around 900 miles southeast of Japan, before they were towed to the USS Ashland, the Navy has said.
Lee said the Taiwanese boat immediately rescued the two Americans and let them use its onboard satellite phone, the Focus Taiwan News Channel reported.
The legitimacy of the women's claims have been cast into doubt several times during the past few weeks by numerous sailing experts and scientists.
The Taiwan News website said Appel's claim of being under attack by the fishing boat is one item on a "long list of tall tales from her curious voyage" that "has become fishier by the day."
The article's headline referred to Appel as a "loopy lady."
Appel and Fuiava, meanwhile, have been doubling down on their story.
Appel has defended a supposed mass attack by 30-foot tiger sharks that experts immediately questioned, and the pair has issued conflicting statements over whether they believed they were in life or death situations during the journey.
They have also insisted they were caught in a serious storm in the days after they set sail, despite weather data strongly suggesting otherwise.