Hamas' 'terror kites' and 'arson balloons' latest destructive weapons in war against Israel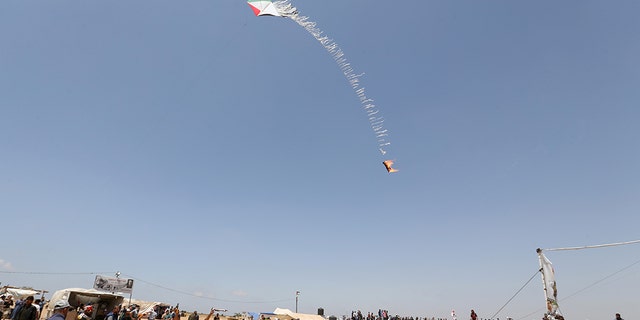 A children's plaything found in the aisles of toy stores around the world is emerging as the Palestinians' latest weapon of "terror" in their bitter and bloody standoff with Israel.
Kites – and also balloons – outfitted with incendiary devices ranging from flaming rags to explosives, are being blamed for scorching more than 6,000 acres of land and causing $2 million in damage after sailing into the Jewish State's territory from the Gaza Strip.
"Israel and Hamas are on the verge of the First Kite War," a headline from the Israeli newspaper Haaretz declared Monday, as the IDF, the country's defense forces, announced numerous strikes in Gaza against sites responsible for churning out the creations dubbed "arson balloons" and "terror kites."
"The IDF views the use of incendiary balloons and kites with great severity and will operate to prevent their use," the Israeli Defense Forces has posted on Twitter, calling them "acts of terror that endanger Israeli residents living in southern Israel."
For one Palestinian, the idea to turn the toys into weapons reportedly came after spotting a kite with a Palestinian flag lying on the ground following deadly clashes along the Israel-Gaza border on March 30.
"We thought that maybe it could carry something else, like a Molotov cocktail, but realized it wasn't practical," Rami, a 30-year-old who described himself as an organizer of the kite building operation, told the Los Angeles Times. "Then we got the idea of setting it aflame."
The newspaper reported that Rami's group creates the flaming kites by using flexible wood taken from a palm tree near his home – and have since moved on to helium balloons outfitted with destructive Molotov cocktails.
It added that 17 fires were recorded in southern Israel on Sunday morning – and the toll that the blazes have been taking on crops -which include 1,400 hundred acres of wheat turned to ash – are akin to an "attack against the womb of the nation," an agricultural village resident was quoted as saying.
The IDF's Twitter account since late last week has been posting frequent updates of strikes carried out against Gaza over the kites and balloons, marking an escalation as the low-tech devices continue to evade Israel's high-tech defenses.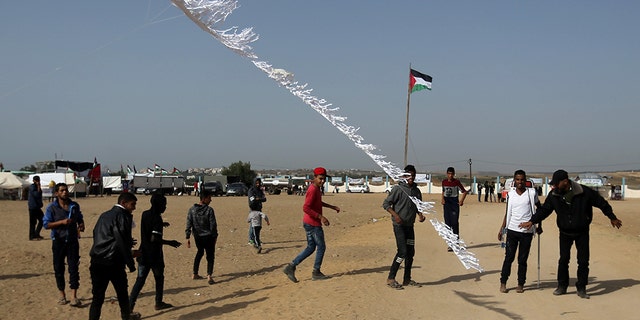 "Moments ago, an IDF aircraft targeted infrastructure belonging to the Hamas terror organization in the southern Gaza Strip after a group of terrorists launched arson balloons into Israeli territory," read one update.
"The Hamas terror organization is accountable for all violence emanating from the Gaza Strip and it will bear the consequences," said another.
FORMER ISRAELI LAWMAKER ACCUSED OF SPYING FOR IRAN, PASSING ALONG SENSITIVE INFORMATION
Israel's military says it has been able to take out more than 90 percent of the devices drifting across the border, but according to a parliamentary committee figures released last week, fires caused by the kites and balloons have burned more than 6,000 acres and have caused more than $2 million in damages, the Associated Press reported.
"We should not wait until Israeli citizens are hurt and only then wake up," Cabinet Minister Naftali Bennett said.
In response to the strikes, Israel also has said it will compensate farmers with funds that were originally attended for Hamas' rival, the Palestinian Authority, and will scrutinize the amount of helium flowing into the Gaza Strip more closely.
"The entrance of helium gas into the Gaza Strip will be limited in light of the use of it by terrorists to fill incendiary balloons," Israeli Maj. Gen. Kamil Abu Rokon told the Times of Israel.
Rokon's unit, according to the newspaper, will become more critical of requests made by hospitals and medical facilities that use helium for various machines.
The escalation in kite and balloon-based destruction comes as the U.N. Secretary-General warned "how close to the brink of war the situation is."
Antonio Guterres made the comments in a report sent to the Security Council that was obtained Monday by The Associated Press.
Guterres, who is pushing both sides to recommit to a 2014 cease-fire deal, says Israeli's military has "a responsibility to exercise maximum restraint.
"The killing of children, as well as of clearly identified journalists and medical staffers by security forces during a demonstration are particularly unacceptable," he was quoted as saying. "They must be allowed to perform their duties without fear of death or injury."
Guterres also slammed Hamas and other Palestinian militant groups for blasting rockets at Israel, noting that they are risking lives and "efforts to restore dignity and the prospects of a livable future for Palestinians in Gaza."
The Associated Press reported that more than 120 Palestinians have been killed and more than 3,800 have been wounded since protests started along Israel's border on March 30, which Israel says Hamas is using as cover for attacks.
"I unequivocally condemn the steps by all parties that have brought us to this dangerous and fragile situation," Guterres said.
The Associated Press contributed to this report.