Hamas leader Ismail Haniyeh visits Gaza, addresses hunger-striking Palestinian prisoners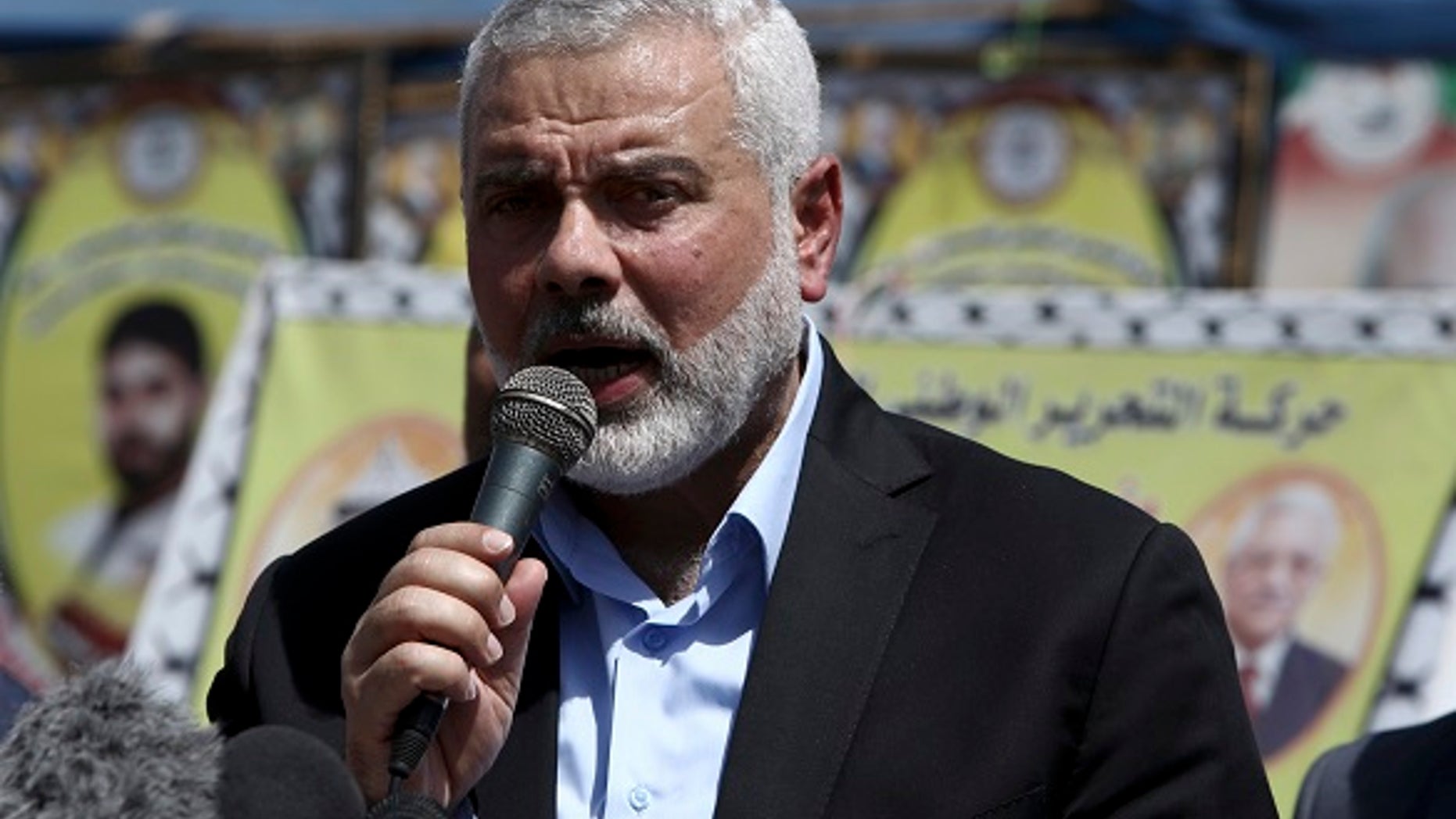 The newly chosen leader of Hamas made his first public appearance in his native Gaza on Monday.
Ismail Haniyeh, 54, visited a solidarity tent in downtown Gaza City, where about 900 Israeli-held Palestinian prisoners have been on a hunger strike for 22 days to demand better conditions from Israel.
"It's my honor to shoulder the responsibility of leading the political bureau of this large movement of holy resistance," Haniyeh told the crowd.
HAMAS SAYS ISMAIL HANIYEH CHOSEN AS ISLAMIC GROUP'S LEADER
Haniyeh, a former prime minister of Gaza, replaced Khaled Mashaal of Qatar as head of the political bureau on Saturday after winning secret internal elections.
Haniyeh may find it difficult to travel out of the small territory located on the Mediterranean. The territory's borders have been blockaded by Israel and Egypt for more than a decade after Hamas seized control. Hamas leaders can leave, but have to coordinate with Egypt first.
HAMAS TRIPLE-EXECUTION IN GAZA CONDEMNED
Meanwhile, Israeli Prime Minister Benjamin Netanyahu posted a video to social media on Sunday discussing the Hamas policy paper that was issued last week. Netanyahu said the media believed that Hamas was becoming more moderate.
"Ever wonder what fake news is? Last week, CNN, The New York Times and Al Jazeera reported that Hamas now accepts the Palestinian state along the 1967 lines. The New York Times headline called this 'moderation,'" Netanyahu said in the video.
"The intimation is that Hamas now accepts the state of Israel. This is a complete distortion of the truth. The new Hamas statement says Israel has no right to exist," Netanyahu said.
"So, where does this hate-filled document belong?" Netanyahu said before tossing the policy paper in the trash.
The Hamas are considered a terrorist group by the U.S. and other western countries for refusing to identify Israel's right to exist.
The Associated Press contributed to this report.