Hamas condemns 'terrible massacre' in Egypt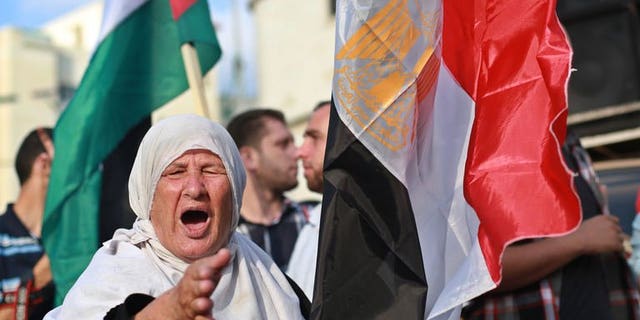 NEWYou can now listen to Fox News articles!
GAZA CITY (AFP) – The Palestinian Islamist movement Hamas which rules Gaza condemned Egypt's bloody crackdown Wednesday on supporters of ousted president Mohammed Morsi as a "terrible massacre."
"Hamas condemns the terrible massacre in Nahda square and at Rabaa al-Adawiyya, and we call for an end to the bloodshed and to excesses against peaceful demonstrators," its spokesman Sami Abu Zuhri told AFP.
Scores of people were killed as police moved in to disperse the two huge protest camps set up in Cairo by supporters of Morsi, whose Muslim Brotherhood movement is close to Hamas.
Egypt's health ministry said in an updated toll that 149 people were killed in clashes in the capital and across the country.
The deputy head of the Hamas government, Ziad al-Zaza, told Gaza's Al-Rai news agency that "the government expresses its great concern over the events taking place in Egypt."