Hamas claims cease-fire reached after Israeli airstrikes; Israel denies it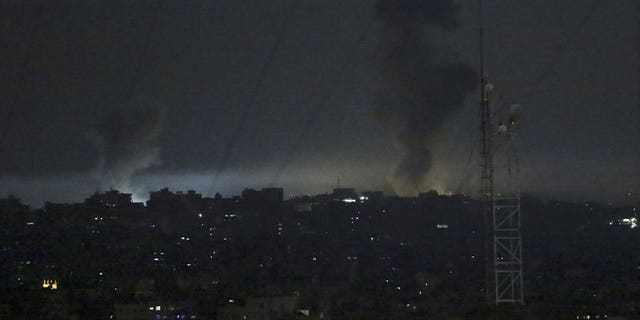 NEWYou can now listen to Fox News articles!
The Hamas terror group said Wednesday that it has reached a cease-fire agreement with Israel, after the Jewish state carried out air strikes in retaliation for rocket fire attacks from Gaza.
But Israeli officials deny the Hamas claim.
Khalil al-Hayya, a senior Hamas official, claims Egyptian mediators intervened "after the resistance succeeded in warding off the aggression." He said militants in Gaza will commit to the cease-fire if Israel does as well.
But Israeli Cabinet minister Naftali Bennett told Israel's Army Radio that no cease-fire agreement has yet been reached.
The Israeli military bombed numerous militant sites in Gaza overnight after Palestinian militants shot dozens of mortar shells toward Israel on Tuesday morning, with several of them hitting Southern Israel, including a kindergarten building that was empty at the time.
Israel said its strikes Wednesday hit drone storage facilities, military compounds, and rocket and munition workshops across the Gaza Strip.
The Palestinians have escalated the conflict in recent months after holding multiple, often violent, protests near the border between Israel and Gaza, prompting clashes between the Israeli Defense Force and Palestinians.
The protests peaked May 14, the same day the U.S. opened its embassy in Israel's capital, Jerusalem, when more than 60 people died in a Hamas-organized action to breach the Israeli border and return to homes that were lost 70 years ago during the war that established Israel.
Israel and Hamas have been exchanging rocket fire ever since the terror group seized the control of Gaza in 2007. The last war, in 2014, was particularly deadly, with more than 2,000 Palestinians dying, including hundreds of civilians.
The Associated Press contributed to this report.