Hamas and Fatah unveil Palestinian unity deal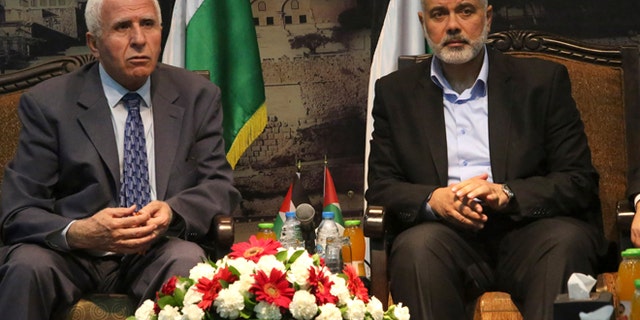 GAZA CITY, Gaza Strip – The rival Palestinian factions Hamas and Fatah on Wednesday agreed to form a unity government and hold new elections, making a new attempt to overcome a seven-year split that has left them divided between two governments.
While the announcement was greeted with smiles and celebrations, it remained unclear how the plan would succeed where previous attempts at unity have failed. It also added new complications to U.S. efforts to broker a peace deal between Israel and the Palestinians.
Israel and the West consider Hamas a terrorist group. Hamas, which is sworn to Israel's destruction, has killed hundreds of Israelis in bombings and shootings over the past two decades.
Earlier Wednesday, Israeli Prime Minister Benjamin Netanyahu accused Palestinian President Mahmoud Abbas of sabotaging peace efforts by seeking rapprochement with Hamas.
"Instead of moving into peace with Israel, he's moving into peace with Hamas," Netanyahu said. "He has to choose. Does he want peace with Hamas or peace with Israel? You can have one but not the other. I hope he chooses peace, so far he hasn't done so."
Hamas seized Gaza from Abbas' forces in 2007, leaving him with only parts of the West Bank. Both sides have become entrenched in their territories, setting up respective governments and their own security forces. The division is a major obstacle to Abbas' goal of establishing an independent state in the West Bank and Gaza, with east Jerusalem as their capital. Israel captured all three areas in 1967.
The reconciliation deal was announced by Ismail Haniyeh, prime minister of the Hamas government, and Abbas' envoy, Azzam al-Ahmed of Fatah.
"We agreed on a timetable to end the split," Haniyeh said at a joint news conference.
He said the sides planned to form an interim government within five weeks. Presidential and parliamentary elections should be held on the same date, "at the earliest six months after forming the government."
Similar agreements have been reached in principle in the past. But they were never implemented due to deep differences.
Adding to the tensions, an Israeli airstrike hit the northern Gaza Strip, missing its target but wounding at least three bystanders, Palestinian officials said.
Medical official Ashraf al-Kidreh says the airstrike targeted two men riding a motorcycle, but that the missile missed its target and wounded a 50-year-old man and two daughters.
The Israeli military confirmed the airstrike, saying "a hit was not identified."
The air force often carries out airstrikes on suspected militants. Earlier this week, Gaza militants attempted two attacks on Israeli soldiers followed by a rocket barrage on southern Israel.