Haley warns Syria, Russia, Iran against using chemical weapons: Don't bet against the US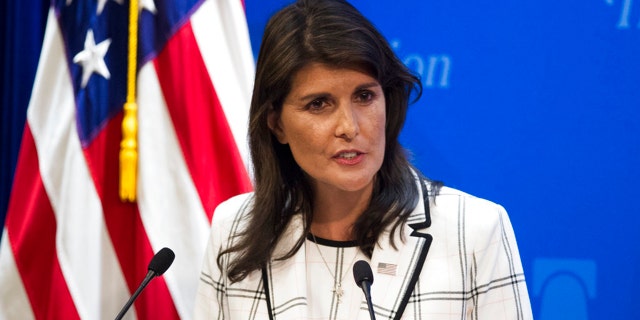 U.S. Ambassador Nikki Haley echoed recent White House statements and again warned Syria and its allies Russia and Iran that the U.S. will act again if chemical weapons are used against Syrian civilians. Haley was addressing a United Nations Security Council meeting on chemical weapons use in Syria Thursday afternoon.
Haley made the Trump administration's intentions clear telling the Security Council that: "We have a message for the Assad regime, and anyone contemplating using chemical weapons in Syria … we want to take this opportunity to remind (President Bashar al-Assad) and his Russian and Iranian partners: You don't want to bet against the United States responding again."
The U.S. and its allies responded twice before against the Assad regime for its use of chemical weapons, once in 2017 and earlier this year.
Haley called on Russia to stop the Assad regime's current offensive plans in Idlib in Syria's northwest province. It's estimated that up to three million civilians are at risk, many of them having fled previous fighting in the last rebel stronghold.
"Today's Security Council session is devoted to chemical weapons — but make no mistake, an Assad regime offensive on Idlib would be a reckless escalation even if chemical weapons were not used. It is up to Russia to keep this from happening," she said.
Haley said that according to U.S. estimates Assad had used chemical weapons on its own people some 50 times, leading to 1,500 hundred deaths including women and children in Syria's seven-year war. "Fifteen-hundred murders covered up by the Russian regime. And 1,500 reasons to disbelieve the claims that others are responsible for these atrocities."
Earlier in the meeting, Russian U.N. ambassador Vassily Nebenzia complained about what he called "the anti-Damascus stance," adopted by the Western countries on the council.
Nebenzia said, "Damascus does not have chemical weapons and nor does it have plans to use it." He then echoed a recent Russian talking point that claimed that Syrian rebels were planning a chemical attack with the intent of blaming it on the Syrian regime to provoke a military response from Western countries.
Great Britain's Ambassador Karen Pierce joined with Haley and other members of the council in calling for the Russians to ensure chemical weapons are not used against the civilian population: "Either Russia calls for restraint or Russia will be deemed complicit in their use when these weapons are used."
Pierce responded to the Russian ambassador's earlier use of an Agatha Christie novel to prove his point.
"Turning to the risk of the use of chemical weapons over Idlib, and taking account of what the Russian representative said: 'Agatha Christie is a fiction writer.' What's fact … is that the Syrian authorities have been found to have used chemical weapons against their own people."
Pierce continued, "So what we hear from the Russian ambassador is an inversion of the facts; an inversion of the concern for protection of civilians that this Council has mandated; an inversion of what the rules-based international order of multilateralism is all about; and fundamentally, an inversion of what governments are supposed to do, which is their first duty — is to protect their people and to keep their people safe."
Syria's U.N. Ambassador Bashar Jaafari, while not a member of the Security Council, spoke at length claiming, among other things, that his country had not used chemical weapons, and echoed Russian talking points bizarrely accusing the U.S., Great Britain and France of being involved in prohibitive acts in Syria, by supporting terrorist groups in his war-torn nation.
On Friday, the Security Council meets again on Syria. This time, members will discuss the humanitarian and political situations in Syria with a special focus on Idlib.
The Trump administration also Thursday played down talk of an imminent pullout of American forces from Syria, while simultaneously demanding a complete withdrawal of Iranian forces from Syrian territory.
U.S. special representative for Syria James Jeffrey, speaking to reporters Thursday about U.S. policy toward the war-torn nation, is pledging the "U.S. will remain in Syria" until the "enduring defeat" of the Islamic State group.
There are roughly 2,000 U.S. troops deployed there.
Trump previously has expressed a desire to get the U.S. out of Syria.
Continually during the Trump administration, America's foreign policy is trying to roll back the U.S.' role as a global policeman.
Fox News' Frank Miles and The Associated Press contributed to this report.