Haley slams Russian actions in Ukraine in first UN Security Council speech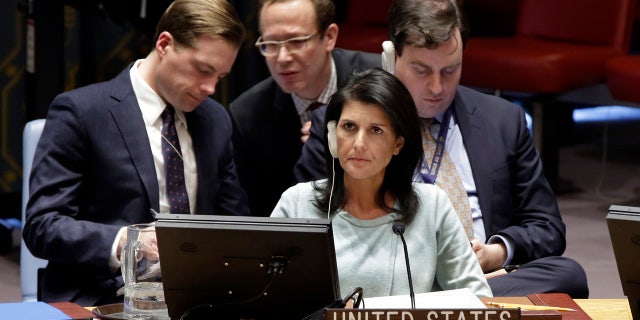 U.S. Ambassador to the United Nations Nikki Haley condemned what she called Russia's "aggressive actions" in eastern Ukraine Thursday, as fighting between government troops and Moscow-backed separatist rebels continued for a fifth day.
"The dire situation in eastern Ukraine is one that demands clear and strong condemnation of Russian actions," Haley said in her maiden remarks to the U.N. Security Council. "Until Russia and the separatists it supports respect Ukraine's sovereignty and territorial integrity, this crisis will continue."
Haley warned Moscow that U.S. sanctions imposed after its annexation of Crimea will remain until the peninsula is returned to Ukraine. She added that it was "unfortunate" that she had to condemn Russia in her first Security Council appearance, saying "we do want to better our relations with Russia."
At least 15 people have been reported killed since the fighting around the city of Avdiivka surged over the weekend. The Ukrainian government said Thursday that two troops were killed in overnight shelling and 10 others were wounded. The rebels said said one of their fighters was killed.
More than 9,700 people have been killed since the war with separatist rebels began in April 2014. An agreement reached nearly two years ago called for a cease-fire and a pullback of heavy weaponry by both sides, but skirmishes persist.
Ukraine's U.N. ambassador, Volodymyr Yelchenko, told the Security Council that the Russian army and Russian-backed separatists had started the latest escalation of violence in eastern Ukraine. Russia's U.N. ambassador, in turn, said that Ukraine had provoked the fighting.
Russian President Vladimir Putin on Thursday accused Ukraine of starting the latest escalation to rally support from the new U.S. administration and other Western powers.
Ukraine is concerned that President Donald Trump could roll back some sanctions imposed on Russia for its actions in Ukraine, and that European Union members could follow suit.
"The Ukrainian leadership needs money, and the best way to get the EU, the U.S. and international organizations to pay is by posing as a victim of aggression," Putin said in Budapest after a meeting with Hungarian Prime Minister Viktor Orban.
Shelling over the weekend damaged water, heating and electricity supplies in Avdiivka amid a strong cold snap. Residents' nerves were raw.
"I was born in 1941. I was in a war at birth and now I see it again," said Valentina Pasternak, as she stood on her porch clutching two loaves of bread brought by aid workers. A shell had landed in her yard.
By Thursday, water and heat had been partly restored, but Avdiivka remained without electricity.
In Brussels, European Union President Donald Tusk urged Moscow to pressure the separatists to make sure the flare-up of fighting ends and a cease-fire is restored.
"Russia should use its influence to disengage the Russia-backed separatists," Tusk said.
U.N. Undersecretary-General Jeffrey Feltman called on international community to help revitalize peace negotiations between Ukraine's government and the separatists to prevent the current crisis from becoming "a catastrophe."
The United Nations' political chief told the Security Council that since Jan. 7, and especially in the last few days, there has been "a dangerous intensification of the conflict" between government and rebel forces in eastern Ukraine.
He said European monitors on Wednesday reported over 10,000 explosions in the eastern Donetsk region over 24 hours, the highest number ever recorded.
Feltman said the monitors from the Organization for Security and Cooperation in Europe also registered frequent use of heavy weapons banned by the Minsk peace agreements.
He noted damage to houses and schools in populated areas of Avdiivka, which is a government-held town just north of Donetsk, the largest rebel-controlled city. He said the damage raises "serious concerns about possible violations of international humanitarian law by all sides."
Fox News' Jonathan Wachtel and the Associated Press contributed to this report.