Gunmen torch 14 NATO oil tankers in south Pakistan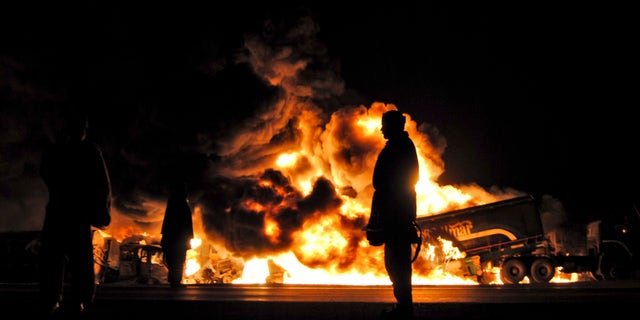 CHAMAN, Pakistan – Gunmen attacked tankers carrying fuel for U.S. and NATO forces in Afghanistan as they sat parked at a roadside restaurant in southwest Pakistan on Saturday, setting 14 of the vehicles ablaze, officials said.
The Pakistani Taliban claimed responsibility for the assault, which also left one driver wounded.
Islamist militants and criminals in Pakistan frequently attack trucks carrying supplies for U.S. and NATO troops. The supplies typically arrive in Pakistan's southern port city of Karachi and travel overland to neighboring Afghanistan.
The latest attack occurred in the Dera Murad Jamali area of Baluchistan province, said Fatteh Mohammed, a local government official. The trucks were likely headed to the border crossing in the town of Chaman, the smaller of two such crossings into Afghanistan.
The home secretary of Baluchistan, Akbar Hussain Durani, said 136 NATO tankers were destroyed in 56 such attacks last year in the province. Some 34 people died and 23 were wounded in the attacks, he said.
It was not immediately possible to get similar data from the northwest province of Khyber-Pakhtunkhwa, where such attacks are believed to be more common. The Khyber tribal region, which is also in the northwest but not technically part of the province, is home to the larger border crossing.
Pakistani Taliban spokesman Azam Tariq said the militant group was behind the Saturday strike, which involved eight gunmen. Police have refused to speculate on who was behind the attack.
"We have assigned our fighters to go after the NATO supply tankers wherever in Pakistan," Tariq told The Associated Press by phone from an undisclosed location. "We want to make very, very difficult all land routes for NATO in Pakistan."
The Pakistani Taliban are separate from, yet linked to, the Afghan Taliban. While both make common cause against the U.S., the Pakistani Taliban also are focused on attacking the Pakistani state.
American officials insist the attacks have had little to no impact on Western troops' operations in Afghanistan, noting that up to 3,000 U.S. and NATO supply trucks are on Pakistan's roads on any given day. Nonetheless, the U.S.-led coalition has begun relying more on other routes.
According to the U.S. Embassy in Islamabad, up to 80 percent of non-lethal supplies traveled through Pakistani soil three years ago, but that number fell to 40 percent last year. Another 40 percent go through Central Asian routes and 20 percent travel by air.
Also Saturday, a group of senior religious leaders from various Muslim sects in Pakistan agreed to form a committee to look into the abuse of harsh blasphemy laws that call for the death penalty for people convicted of insulting Islam.
The group made a vague announcement after a meeting with Interior Minister Rehman Malik. Major controversy has erupted over the laws, which human rights activists say are often used to settle rivalries or persecute religious minorities.
Earlier this month, a security guard killed the liberal governor of Punjab province, Salman Taseer, because he opposed the laws. Many Muslim leaders in Pakistan hailed the confessed assassin as a hero and said Taseer deserved his fate.
Facing domestic pressure in a country where Islamic fundamentalism is increasingly mainstream, the ruling Pakistan People's Party has said it would not amend the laws. At the same time, some of its leaders insist they want to protect religious minorities. Saturday's agreement with the religious leaders was a sign the government is keen to soften the international outrage over the laws and the assassination.
"We have agreed to set up a 10-member committee, that will consist of two religious leaders from each sect, to stop misuse of blasphemy law," Haji Hanif Tayyab, a leader of the Barelvi Sunni sect, told reporters alongside Malik on Saturday.
No further details about the committee or how it would go about achieving its goal were given. Also unclear was the exact role government officials would play.
___
Associated Press writers Rasool Dawar in Dera Ismail Khan, Ashraf Khan in Karachi and Abdul Sattar in Quetta contributed to this report.