Guinea's Newly Elected President Survives Assassination Attempt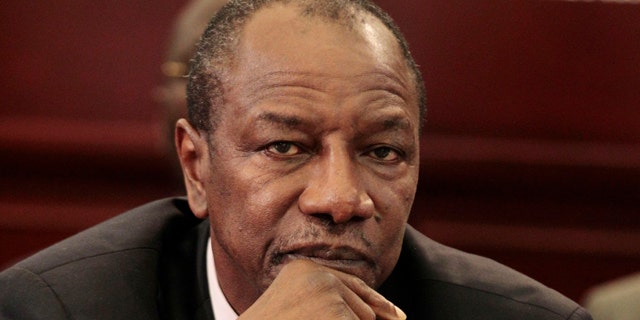 CONAKRY, Guinea – Guinea's democratically elected president survived an assassination attempt early Tuesday when gunmen descended on his home, an attack that throws into doubt the political stability of this mineral-rich country with a history of coups.
President Alpha Conde later addressed the nation on state radio, saying that his presidential guard "had fought heroically at 3:10 a.m." when his home came under attack by unidentified commandos.
At least one member of his security detail was killed, several more were wounded and portions of his house were destroyed, said Francois Fall, a minister at the presidency.
Conde, who was elected just seven months ago in a vote deemed to be Guinea's first free and fair election, called on the population to stay calm and avoid acts of reprisal.
"If your hand is in the hand of God, nothing can happen to you," he said. "Our enemies can try everything, but they will not stop the march of the Guinean people."
Fall said that the president is safe and is being protected in an undisclosed location. He said that an investigation had been launched but that it was too early to name who was behind the attack.
On Tuesday, taxi drivers said the red-beret presidential guard had blocked the bridge that is the only way to enter the thin peninsula that leads into downtown Conakry.
Residents in the Kaporo Rail neighborhood said the shooting erupted as they were sleeping at around 2 a.m. and continued until first light. The heaviest fighting appeared to be coming from near the walled compound where Conde lives -- the same three-story home that served as his base when he was the head of the country's opposition.
"It seemed to me that they were exchanges of shots between the presidential guard and a group of assailants," said a neighbor, who spoke on condition of anonymity for fear of reprisals. "We were scared all night long. It's only at dawn that it became calm again."
Guinea held its first free and fair election last November, a half-century after winning independence from France. Conde won, but the capital devolved into ethnic riots as his supporters, who like him are mostly from the Malinke ethnic group, clashed with supporters of the defeated candidate, who are mostly Peul.
Frustration has been growing because Conde has failed to create an inclusive government, instead stacking it with members of his ethnicity, and because the country's grinding poverty has not yet been alleviated. His relationship with the military -- which has been behind every one of Guinea's past coups including the most recent in 2008 -- has been strained.