Guatemalan playboy held Cape Town murder reportedly robbed by inmates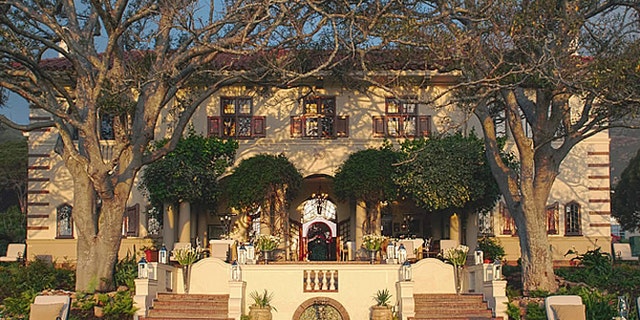 NEWYou can now listen to Fox News articles!
The Guatemalan playboy suspected of killing a Los Angeles public relations executive in a posh South African resort last week was allegedly robbed of his clothes minutes after he appeared in court on Tuesday.
Diego Dougherty, who is also known as Diego Dougherty Novella, has been charged with the grisly pre-meditated murder of 39-year-old Gabriela Kabrins at Cape Town's five-star Camps Bay Retreat on July 29. Kabrins was sexually assaulted and found in her $10,000-per-night hotel room covered in feces and with a pound of cocaine nearby, according to multiple media reports. Police believe she was either suffocated or strangled by Dougherty, who has been identified as her boyfriend.
Adding to his troubles, Dougherty's fellow prisoners have allegedly stole the literal shirt off his back.
"I took him a tracksuit top and bottom, a pair of long pants, shirts and shoes," his lawyer, William Booth, told Johannesburg's Times Live. "[That same tracksuit top] I gave him while he was in the cells has just been taken off him."
Dougherty, 41, was portrayed as the "black sheep" of a powerful Central American family in a Daily Mail article Tuesday, however, Booth says Dougherty's family is worried about him.
"I've been in contact with them by way of email and I've had a telephonic call from one of his brothers," Booth told Times Live. "They are very upset. It's quite a shock to the family and they indicated they will assist wherever possible."
In a possible sign of his family's influence, an official with the Honorary Consulate of Guatemala, Pedro Belli, has "relayed a message of support" from the Guatemalan Embassy in London to Dougherty via Booth, according to South Africa's Eyewitness News. Belli said an embassy official could fly down from London. Guatemala's ambassador to London also covers South Africa as part of his portfolio.
But while an embassy official may or may not travel to Cape Town, Kabrins' family has already flown into South Africa and was present during Dougherty's first court appearance on Tuesday. His next scheduled hearing is Friday.
More charges could be levied against Dougherty, prosecutor Carmen Daniels said Tuesday.
Cementos Progreso, the cement company established in 1899 by the suspect's grandfather, Don Carlos Federico Novella Klee, is one of Guatemala's biggest companies and is known for charitable works through a related foundation run by the family. The Guatemalan national soccer team's stadium bears the company name.