Guatemala Morales defends ending UN anti-graft commission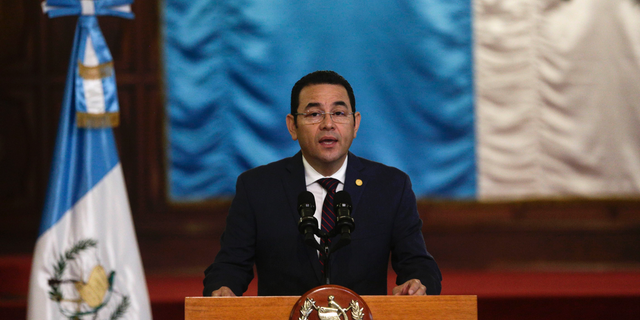 GUATEMALA CITY – President Jimmy Morales on Thursday defended his decision to wind down a U.N. commission investigating graft in Guatemala, responding to domestic and international critics who called it a blow against efforts to strengthen rule of law and hold the corrupt accountable.
In an address in Guatemala City, Morales argued that the exit of the International Commission against Impunity in Guatemala next year will not jeopardize further investigations of corruption.
He added that his decision not to renew the mandate of the commission, known as CICIG for its initials in Spanish, doesn't obstruct justice but rather aims "to locate the constitution of the republic as our highest law."
Morales announced last week that he was not giving the commission another two-year term in the country, giving CICIG until the end of its current mandate in September 2019 to transfer its duties and expertise to Guatemalan institutions.
"Guatemala will respect the current mandate of CICIG, and we will be willing to promote the eminently technical methodology" to continue investigations, Morales said Thursday.
But with the president facing allegations of receiving more than $1 million in undeclared financing during his 2015 campaign — he denies wrongdoing — critics see his explanation as a cover for self-preservation.
"I think it's a ridiculous assertion. I don't see how any of us can take this at face value," Christine Wade, a political scientist at Washington College in Maryland, said of Morales' claim that the commission's exit would not affect investigations. "It would seem that the entire purpose of not renewing CICIG is to undermine the fight against impunity and corruption in Guatemala, and to save his own skin in the process."
Wade said there's no reason to think "that this is somehow going to reaffirm the state's fight against corruption and immunity — There is no fight within the state against corruption and impunity. There's a reason CICIG's there to begin with."
Earlier this week Morales also barred CICIG chief Ivan Velasquez, who had traveled to Washington, from returning to the country. He continues as head of the commission, working from outside the country.
On Wednesday the Constitutional Court agreed to hear four appeals seeking to reverse that ban. It has defied Morales in the past: Last year when, the president declared Velasquez persona non grata and sought to have him expelled, the court overturned the order.
Morales also said Thursday that he was "not obligated to obey illegal rulings," a declaration that constitutional lawyer Alejandro Balsells called a clear allusion to previous checks by the court on the president's actions.
Foreign Minister Sandra Jovel also criticized U.N. Secretary-General Antonio Guterres.
"You are at the service of member states. It is unacceptable and contrary to U.N. purposes to purport to establish a super-national entity that dictates to governments how to exercise their duties. ... Doing so infringes on the sovereignty of states," Jovel said.
Graft investigations brought by CICIG and Guatemalan prosecutors have touched the highest levels of government and the business sector, including former President Otto Perez Molina and his then-vice president, who remain jailed.
A request to lift Morales' immunity from prosecution, which comes with office, is currently in congress for consideration. That petition was presented by CICIG and prosecutors to the Supreme Court, which ruled it should go to lawmakers for a final decision.