Group Says Spies Have Found Secret Iranian Nuclear Facility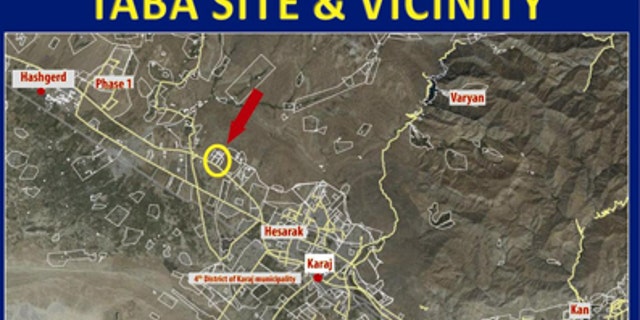 A new facility in Iran is being used to secretly produce components for the country's renegade nuclear program, a well-known Iranian dissident tells FOX News.
Alireza Jafarzadeh and his organization, Strategic Policy Counseling, have released a report that claims a clandestine facility, called TABA, has played an integral part in Iran's nuclear ambitions.
Though Fox News cannot independently confirm the facility or Iran's intention for it, Jafarzadeh and his group are leading sources on the Islamic state's activities.
"This site is one of the secret centers affiliated with the Atomic Energy Organization of Iran (AEOI) and plays a significant role in producing centrifuge parts and advancing the secret portions of the Iranian regime's nuclear program," the report says. "Over the course of the past four-and-a-half years, parts for tens of thousands of centrifuges have been manufactured at this site and secretly relocated…"
The international community, led by the U.S., has raised concerns that Iranian President Mahmoud Ahmadinejad and his regime are pursuing a nuclear missile program, but the Iranian government has maintained its nuclear ambitions are peaceful, meant only to create energy, not weapons.
Still, in recent years, the United Nations Security Council has imposed a series of resolutions aimed at ending Iran's nuclear activities, though outside inspectors are rarely granted access to the Iranian facilities.
Later Thurday, the group also reported that some of its members and relatives living in a camp in Iraq known as Camp Ashraf were being forced out of their homes by Iraqi forces, an effort the group says is backed by Iraqi and Iranian leaders united by ethnicity, though Fox News could not independently verify this.
The report Thursday on Iran's nuclear program claims several parts of nuclear centrifuges are manufactured at the TABA site including centrifuge casings, composite tubes, centrifuge magnets and molecular pumps at the secret location. Since centrifuges are a vital component of uranium enrichment, they have been a focal point in the monitoring of Iran's nuclear program.
Former U.N. Ambassador and Fox News contributor John Bolton says while some of the technology at the site is older, it could have long been a key to the Iranian nuclear program.
"This is old equipment that was originally put under seal by the IAEA and which the Iranians took out from under seal and hid in this location adding even more equipment to it," Bolton said. "My guess would be this is the facility that continues to produce the first-generation centrifuges."
But Bolton also suggests the facility may indicate there is a new, more sophisticated layer to Iran's nuclear activities.
"[The facility] strongly suggests to me that there are other also hidden also unknown locations that are producing the next generation of centrifuges," Bolton said.
The new report from Jafarzadeh's group also attacks Iran's claim of peaceful nuclear generation, directly tying the TABA site to the Iranian Defense Ministry.
"Although affiliated with the regime's AEOI, the Defense Ministry actually directly supervises the operations at this site," the report adds. "Specifically, an individual identified as Jafar Mohammadi, one of the highest ranking experts in centrifuge production in the Defense Ministry monitors the operations at the TABA site."
Jafarzadeh's report claims the secret nuclear site's military ties are proof that outside pressure on Ahmadinejad isn't affecting Iran's nuclear program.
"Today's revelation shows the Iranian regime's heightened deception and concealment policy in order to get to the bomb as rapidly as possible," the report concludes. "This continuing and systematic effort has made it abundantly clear that international sanctions, albeit necessary, have not had the desired impact in halting the advancement of Tehran's nuclear weapons program, its support for terrorism and crackdown at home."
Given that failure, and that military intervention is "impractical and undesirable," the report suggests an internal takeover of the Iranian regime is the answer to ending its nuclear ambitions.
"The most viable and effective policy that could definitively end the specter of a nuclear-armed fundamentalist regime is one of regime change. That change, however, must and can come from within Iranian society by the Iranian people and led by organized opposition that is committed to a secular, democratic, and non-nuclear Iran."
Fox News' Jennifer Griffin contributed to this story.