Greek subway workers on strike risk jail time after government signs court order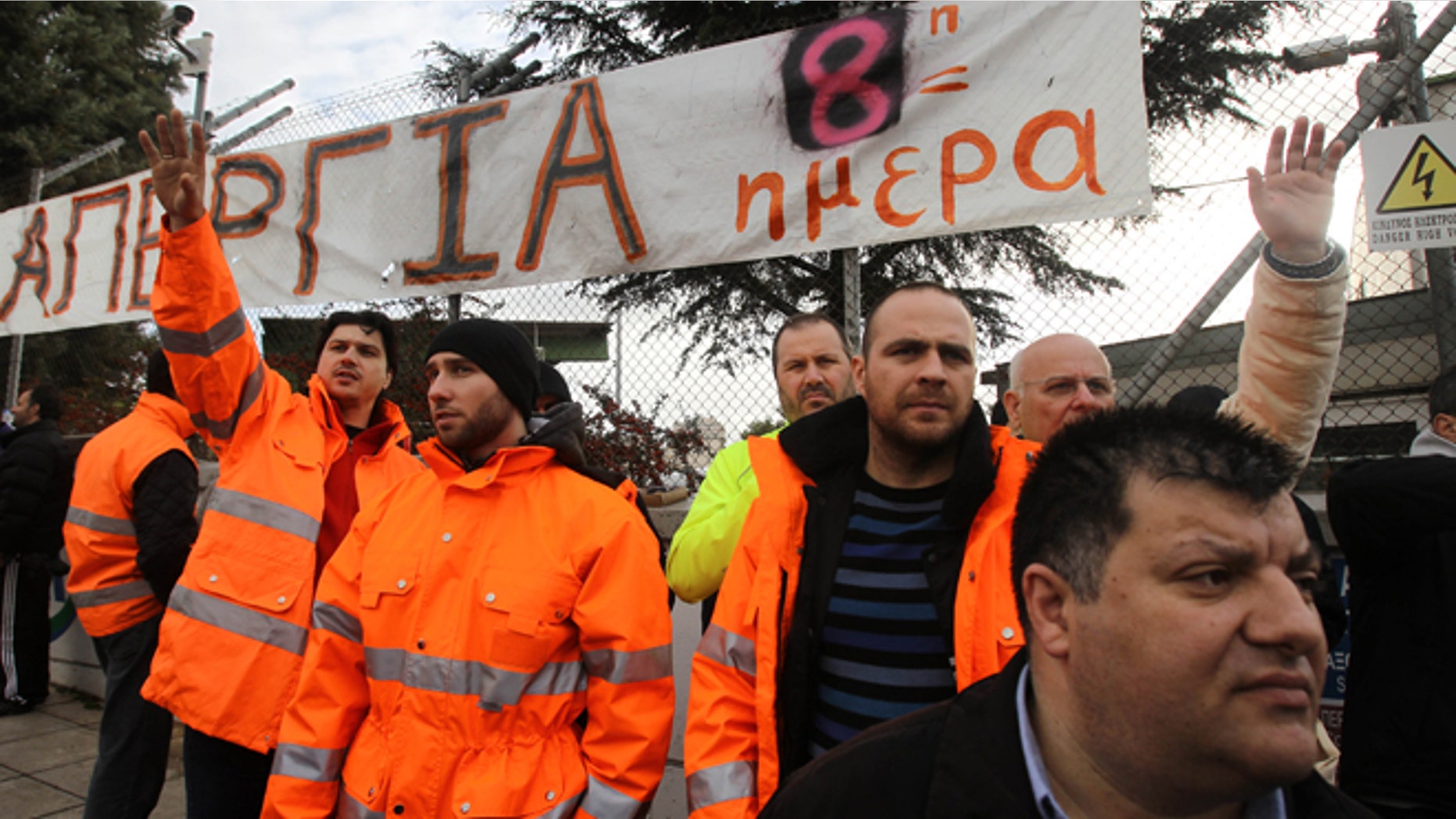 ATHENS, Greece – Greece's government announced emergency powers Thursday to force striking subway workers back to work, with those defying it risking dismissal, arrest and jail in an escalating standoff over austerity measures.
In a swift backlash, unions announced immediate strikes that halted all public transport across the capital for the rest of the day, forcing commuters to trudge through a thunderstorm or vie for taxis to get home in the evening.
The disruption was set to continue, with some declaring further labor action.
"We are protesting and if they fire people, let them come, they will take us dead from here," said Antonis Stamatopoulos, head of the Athens metro workers' union. "Starting tomorrow there will be a transportation blackout."
Subway staff angered by pay cuts which they say will reach 25 percent of their salaries had defied a Wednesday night court order to return to work, pulling their strike into an eighth day. With traffic clogging the capital's major streets, the government announced a civil mobilization order for the Athens metro.
Under the law, amended in 2007 to deal with "peacetime emergencies," defying a civil mobilization order carries a three month to five year prison sentence.
Civil mobilization has now been used nine times since the 1974 collapse of a military dictatorship in Greece -- three of those in the past two years in strikes related to austerity measures imposed in return for international bailouts that are keeping the country from outright bankruptcy. Considered an extreme measure, the law's use tends to spark an outcry but does tend to end a strike.
"The unionists have decided to follow a course of blind confrontation as well as adopting unreasonable strike methods," Transport Minister Kostis Hatzidakis said in announcing the order after a meeting with Prime Minister Antonis Samaras.
"As a result of their actions, they are causing difficulties for Athens and Athens' society and they are creating a serious financial problem for the city. ... We can take no other action than to proceed with the measure of (civil) mobilization."
Following the announcement, striking metro workers who have been blockading the subway train depot in western Athens parked two fork-lift trucks behind the entrance gates, preventing anyone from entering.
The metro, which opened in 2000, serves more than 700,000 passengers daily, covering 32 miles with 34 stations. It operates alongside an older rail line, bringing the capital's combined daily subway traffic to 1.1 million passengers, according to data from the operators.
"We expect everything now, we have nothing left to lose," said Stamatopoulos, to cheers of his fellow strikers at the depot. "Let Mr. Hatzidakis come here driving a tank."
Metro workers are outraged by plans to scrap their existing contracts as part of a broader reform to public sector pay, with their union saying the measure would subject them to a roughly 25 percent pay cut.
Stamatopoulos said that metro workers had lost on average nearly half of their income through successive salary and benefit cuts since the start of the bailout austerity measures in 2010.
The strike has been met with a mixture of understanding and exasperation from commuters, many of who are in a similar situation and are suffering cuts to their own income. Strikes in general are so widespread and frequent in Greece that they have become part of everyday life.
"Good for them. How else can they live? They work 50 meters underground for euro500, euro600, euro900 (per month)," said Vangelis Zisis, standing at a crowded bus stop before the transport blackout was announced. "What is euro900 ($1,200) today when prices have skyrocketed?"
Others were angered by the disruption the eight-day strike was having on their work.
"It's turned my life into a nightmare," said Sophia Economopoulou, who works for a mobile phone company handing out promotional phone cards to commuters. "You understand the nature of our work depends on the metro. So my nerves are on edge."
The government has insisted there can be no exceptions to the new public sector pay scales, which is part of spending cuts been imposed in order to meet fiscal requirements by international creditors in return for much-needed bailout loans. The loans' conditions have deepened the country's economic hardship -- Greece is in a sixth year of recession, with unemployment spiraling to above 26 percent.
"The Greek people have made sacrifices. Huge sacrifices. And I cannot allow exceptions," Prime Minister Antonis Samaras said. "Besides, public transport doesn't belong to unions. It belongs to the people, who have the right to use it and not to be inconvenienced from morning to night."
"So let everyone understand it: the mistakes of the past will not be repeated."
Unions and the main opposition party, the radical left Syriza, responded to the mobilization order with outrage, saying it was reminiscent of a military dictatorship.
"They have declared martial law against the workers. Problems cannot be resolved with martial law," said Syriza lawmaker Panagiotis Lafazanis.
Separately, a seamen's union announced a 48-hour ferry strike starting next Thursday to protest recent changes in labor laws that will allow more employees to be hired on short-term contracts.