Greek socialist leader Venizelos: No deal yet on coalition government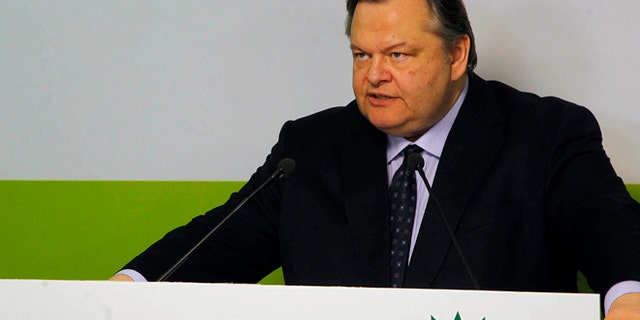 ATHENS, Greece – Greek socialist leader Evangelos Venizelos said Wednesday there has been no success so far in negotiations to form a coalition government after weekend elections resulted in a deadlock.
Venizelos, a former finance minister whose PASOK party came in third with 13.18 percent, is next in line to take over the mandate of trying to cobble together a coalition and said he would continue the efforts when he is handed the task on Thursday.
Alexis Tsipras, head of the Radical Left Coalition, or Syriza, was leading the talks on Wednesday, and met with Venizelos as well as the heads of other parties on the right and left of the political spectrum. Tsipras has been seeking support for a left-wing government that will reject the terms of Greece's international bailout -- which critics say will lead the country out of the euro.
Sunday's election result was a severe blow to PASOK, which has dominated Greek politics along with the rival conservatives New Democracy for four decades and stormed to victory with a landslide in the previous elections in 2009.
Its popularity suffered from the harsh austerity measures it imposed in return for two multibillion euro international bailouts. The measures, which included salary and pension cuts and repeated tax hikes, have left Greece in a fifth year of recession.
Venizelos insisted it was imperative for Greece to remain within Europe's joint currency.
"Mr. Tsipras asked me if we would address the possibility of supporting a unity government that would freeze the process (of austerity) ... I answered that the country has no time to waste and we cannot examine any option that would prolong the recession," Venizelos said.
"The vast majority of the country wishes to remain in the euro," he added. "And exit from the euro would result in mass poverty, a loss of value of property, income and prospects. Greece would lose many decades."
Tsipras met later with conservative New Democracy head Antonis Samaras, who came first in Sunday's polls with 18.85 percent of the vote and 108 seats in the 300-member parliament.
Given that the Communist Party refuses to join any government and no parties are talking to the extreme right Golden Dawn, which won 21 seats, no coalition can be formed without Samaras.
But the views between him and the radical left remain as wide apart as ever.
All have said they want to avoid another round of elections, which will be inevitable if no coalition government can be formed.
"The result of the elections produces two priorities: the need for stability, and a government solution so that the country avoids another election," Venizelos said. "Prolonging the uncertainty will hurt the country's standing, its economy and ultimately its most vulnerable citizens."
Venizelos said his meeting with Tsipras was friendly, but that no agreement was reached.
"It was clear that in the current stage of this process we cannot reach a solution but that we must continue this effort. So the mandate I will receive tomorrow will have substance and importance," he said. "I will receive the mandate and continue the effort because we have an obligation as a force of national responsibility to provide the country with a government and provide it with safety and prospects."