Greek PM Promises Powersharing Talks, Survives Confidence Vote Despite Handling of Debt Deal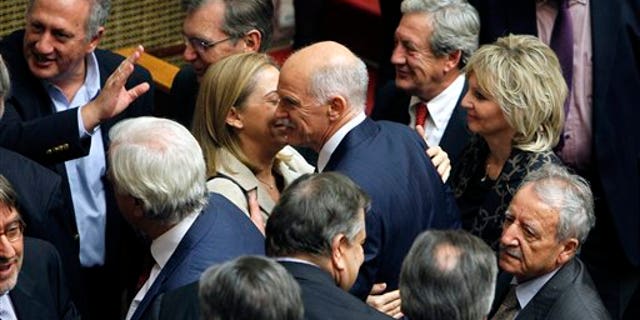 ATHENS, Greece – Greece's prime minister survived a confidence vote early Saturday, calming a revolt in his Socialist party with an emotional pledge to step aside if need be and seek a cross-party government lasting four months to safeguard Europe's new debt agreement.
George Papandreou won the critical confidence motion with a vote of 153-145 after a week of drama in Athens that horrified its European partners, spooked global markets and overshadowed the Group of 20 summit in the French resort of Cannes.
The threat of a Greek default or exit from the common euro currency has worsened the continent's debt crisis, which is already struggling under bailouts for Greece, Ireland and Portugal.
Finance Minister Evangelos Venizelos said the new government that will be formed would last until the end of February.
But opposition leader Antonis Samaras, who had demanded Papandreou resign and a new government be formed that did not include members of any political party, called for snap elections. He did not say whether his conservative party would join coalition talks, due to be formally launched later Saturday when Papandreou meets the country's president.
"The masks have fallen, Mr. Papandreou has rejected our proposals in their entirety. The responsibility he bears is huge. The only solution is elections."
Papandreou's government came under threat this week, following his disastrous bid to hold a referendum on a major new European debt agreement. The idea was swiftly scrapped Thursday after an angry response from markets and European leaders.