Grapevine protesters demand release of dash cam video of deadly police shooting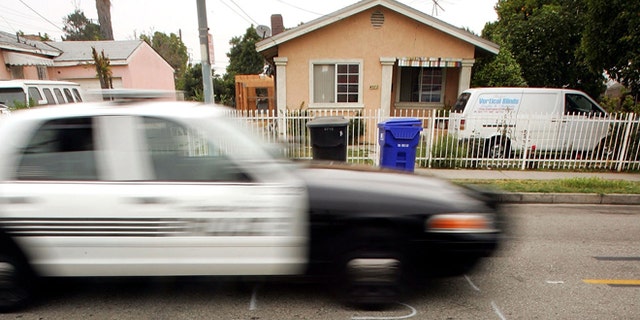 A small crowd of protesters gathered in a small Texas town to push for the release of a dashboard camera video in a fatal officer-involved shooting, as the victim's family opens up about life without their loved one.
Grapevine police spokesman Sgt. Robert Eberling has said the Tarrant County district attorney's office told them not to release the video because it's evidence in a criminal investigation.
The police department said officer Robert Clark shot and killed an unarmed Mexican citizen, 31-year-old Ruben Villalpando, after a brief car chase on Feb. 20 from Grapevine to Euless.
The department said Garcia had gotten out of his truck and walked toward Clark, even though the officer repeatedly told him to stop.
A Tarrant County grand jury will review the case that's being investigated by Euless police.
Villalpando's family's lawyer, Domingo García, told local media that the Grapevine police force are using a past run-in he had with the police – an arrest last December after being pulled over for driving 75 mph in a 60 mph zone and having a blood-alcohol concentration that was three times the legal limit of 0.08 – to smear his name and sway the investigation in their favor. He added that Villalpando had no previous arrests.
"You don't shoot unless your life is in danger or the life of another is in danger," García told the Dallas Morning News.
Officer Clark's attorney, Lance Wyatt, has argued, however, that his client responded appropriately in the situation.
"I do believe that Officer Clark acted legally during this incident," Wyatt has said.
Clark is currently on paid administrative leave pending the investigation. Prior to the shooting he had been with the Grapevine department about nine months at the time of the shooting, after leaving a position with the Dallas/Fort Worth International Airport police.
The 6-foot-3 and 222 pounds officer had also trained to be a Navy SEAL but left the program about a month before completion after Navy officials concluded he had asthma, a diagnosis he still disputes.
As the investigation continues, Villalpando's family – wife Martha Angelica Romero and 7-year old son Eduardo, are struggling to deal with the fact that their loved one is dead.
"My husband was a joyful, playful person, loving with the children," she said. "More than anything, I will miss his hugs, his words, his insistence in calling me at any time … in surprising me at work with the kids."
The Associated Press contributed to this report.