Gorbachev blasts Russia's rulers as he turns 80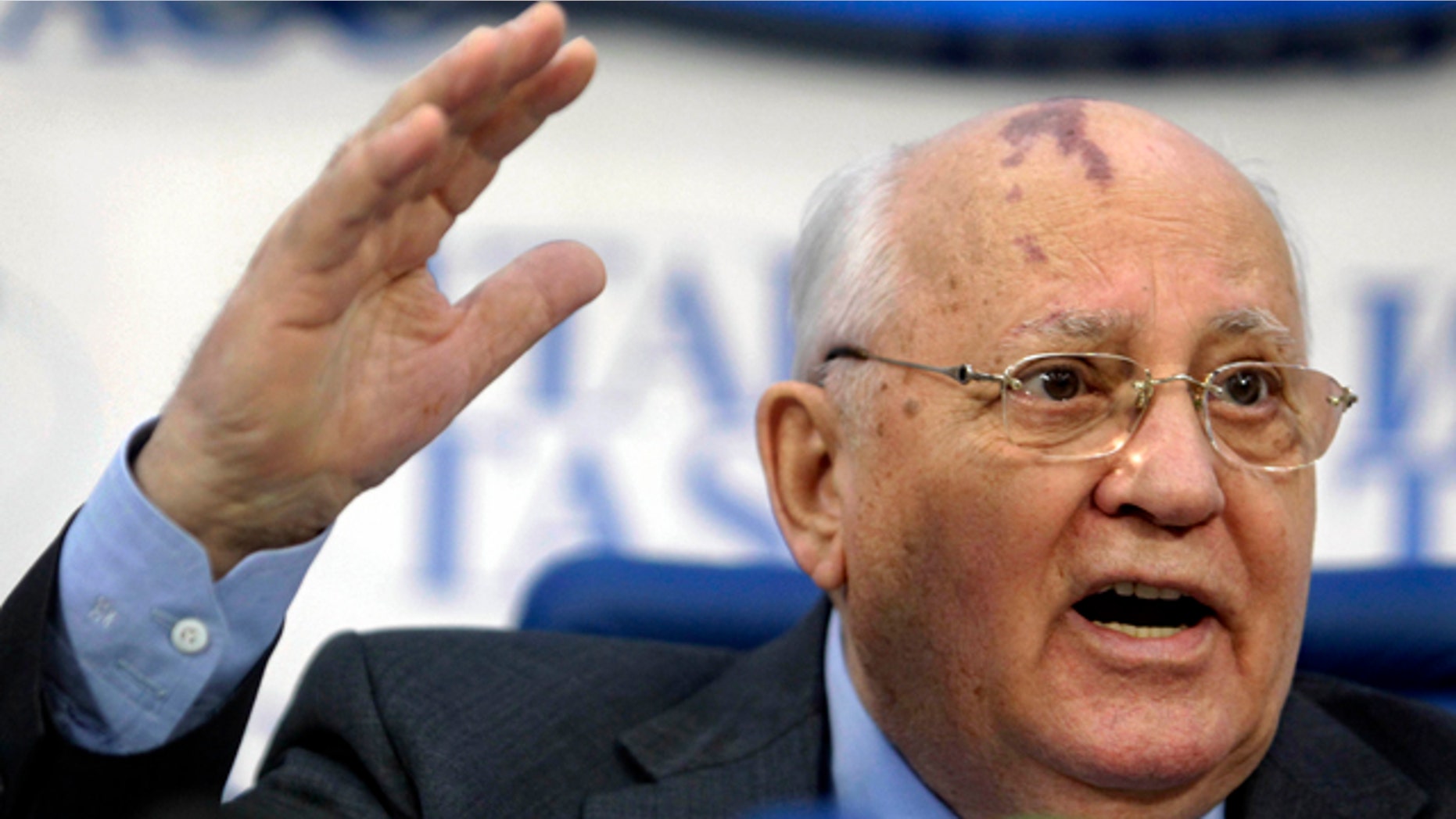 MOSCOW – Approaching his 80th birthday, Mikhail Gorbachev jokes about his age but frowns when he speaks of Russia sliding back into Soviet authoritarian ways he thought he defeated.
For much of the nearly 20 years since the Soviet Union collapsed under his leadership, Gorbachev has been something of a dim figure in his homeland, mostly staying out of public view despite being lauded in the West.
These days, Gorbachev, who turns 80 on Wednesday, is becoming more visible and outspoken, even recently doling out harsh criticism of Vladimir Putin — as painful memories over the anxiety and suffering that followed the USSR's disintegration grow fainter.
Although his legacy remains controversial, Gorbachev is at last getting some recognition as an elder statesman, including a large photo exhibition on his years in power, displayed in a prestigious hall just outside the walls of the Kremlin that he once ruled.
And despite his years, he still shows the vigor and humor that captivated the world after a long series of sickly and tongue-tied Soviet leaders.
"I don't believe I'm 80 and didn't hope I'd make it (this far) — but I'm not going into physiological details here," he joked at a recent news conference.
But his remarks on Russia's current politics were pointed. He described Russia as an "imitation" of democracy where parliament and courts lack independence from the government and the main pro-Kremlin party is a "bad copy" of the Communist Party of the Soviet Union.
Gorbachev, whose attempts to reform the Soviet system led instead to its death, says many of his democratic achievements have been reversed — and could not hide his contempt for the current leadership.
"Incredible conceit!" he snaps when asked about Prime Minister Putin and his protege, President Dmitry Medvedev, saying they will decide between them who should run for president in Russia's March 2012 presidential vote.
Gorbachev accuses Putin, who was president in 2000-8, of taking the country back to the times of a one-party state, manipulating elections, media-censorship and a crackdown on dissent. Gorbachev said his own attempt to found a political party failed when a Kremlin aide bluntly told him that authorities wouldn't register it.
Recalling his push for liberalization of the Soviet Union, Gorbachev said he understood that it would erode his own authority but launched the reforms because the country desperately needed change.
"I could have enjoyed being in power like other politicians had done before me and are doing now," he said in a recent interview with the liberal Novaya Gazeta newspaper, which he co-owns. "But ... I felt an enormous and impatient public demand for changes."
Gorbachev was 54 when he took the helm as the General Secretary of the Communist Party in March 1985, his relatively young age and open manner contrasting sharply with his predecessors.
A month after his appointment, he announced sweeping political and economic reforms that were enthusiastically greeted by people striving for a change after decades of repressive Soviet rule.
He allowed dissident physicist Andrei Sakharov to return home from internal exile, quickly launched disarmament talks with the West, signing a 1987 deal to cut an entire class of nuclear missiles with President Ronald Reagan, and ended the war in Afghanistan.
But while he quickly became an icon in the West, his popularity at home took a nose-dive under the impact of hasty and ill-fated domestic reforms. His attempt to limit alcohol consumption was marred by excesses, and he failed to deliver on his promises to raise living standards.
The one area where Gorbachev quickly succeeded was his campaign of glasnost or openness, which allowed the media to criticize authorities and expose the crimes of Soviet dictator Josef Stalin.
Changes continued in avalanche. In 1989, Gorbachev championed the first relatively free parliamentary elections in which many Kremlin critics won seats, and he didn't stop protest movements from driving out Communist regimes across Eastern Europe.
Then Gorbachev also began losing his grip on power, facing attacks by the Communist old guard, who were accusing him of betrayal, and from liberals complaining that his reforms were not moving fast enough.
Ethnic conflicts, which had been ruthlessly suppressed by Soviet rulers over decades, flared up and secessionist movements spread quickly across all 15 Soviet republics. An attempt to free prices and ease centralized controls over the economy emptied shelves and fueled inflation, and a badly planned money reform added to public dismay.
The rising tensions culminated in the botched August 1991 hardline coup that briefly ousted Gorbachev and precipitated the Soviet collapse. Gorbachev resigned as Soviet President on Christmas Day 1991 after several leaders of republics declared the Soviet Union extinct.
Many praise Gorbachev for not resorting to military force to stay in power.
"He faced a dilemma: he could only preserve the Soviet Union by spilling a lot of blood, and he didn't do that," Liliya Shevtsova, an expert with Carnegie Endowment's Moscow center, wrote in a commentary. "Gorbachev killed a Soviet leader in himself even before the Soviet collapse."
Gorbachev doesn't regret launching the reforms which eventually cost him his job. "I only can be grateful to destiny for giving me the opportunities that I had," he said in a TV interview.
He still feels bitter about his mistakes — admitting that he underestimated his foes when he left on a seaside vacation days before the planned signing of a crucial agreement that could have saved the Soviet Union. Emboldened by his absence, hard-liners in the Soviet leadership launched the coup.
"I shouldn't have left, it was exactly what they wanted," he said last week. Asked what he can't forgive, he answered with a terse "betrayal."
Gorbachev was reviled at home for years after he lost power, as many held him responsible for the Soviet collapse and the economic meltdown that cost most of the population their lifetime savings. It was his wife Raisa's death of blood cancer in 1999 that melted many hearts, softening the public attitude to Gorbachev.
He speaks about Raisa with tenderness, saying he remains grateful to fate for their 46 happy years of marriage. "I want to believe that we can meet again behind the grave," he said in Sunday's television interview.
Gorbachev said he will celebrate his birthday with family and friends in Moscow on Wednesday and on March 30 attend a charitable gala concert in London's Royal Albert Hall to help raise money for treating patients with blood cancer.