Give us time, Mbeki tells Bashir on Sudan oil deadline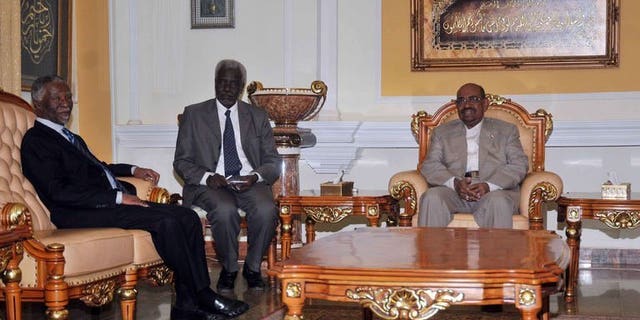 KHARTOUM (AFP) – African officials on Thursday asked Sudan for more time to probe allegations of cross-border rebel support as a deadline nears for shutting the economically vital pipeline carrying South Sudanese oil.
South Africa's former president Thabo Mbeki and Ethiopian Foreign Minister Tedros Adhanom Ghebreyesus met for about 90 minutes with Sudan's President Omar al-Bashir.
Mbeki said they discussed the regional panel launched this week to investigate allegations by Sudan and South Sudan that they are supporting rebels operating in each other's territory.
Regional nations have also begun determining the centreline of a demilitarised buffer zone that is to straddle the 2,000-kilometre (1,240-mile) undemarcated border between the two countries.
Mbeki, the African Union's top mediator between Sudan and South Sudan, said both measures need time.
"Sudan already gave 60 days to shut down the pipeline," he told reporters.
"We asked President Bashir to give these two mechanisms a length of time, because they are already working."
Mbeki, who took no questions, did not say what Bashir's response was.
Sudan's Foreign Minister Ali Karti accompanied Mbeki and Tedros to the press briefing but made no statement.
The AU and east Africa's bloc, the Inter-Governmental Authority on Development (IGAD), launched both initiatives on Monday in the Ethiopian capital Addis Ababa.
In June, Khartoum told oil companies they had 60 days to stop transporting crude from South Sudan through a Sudanese export pipeline after Bashir accused the Juba government of backing rebels in the north.
There has been confusion, however, about whether the 60 days is merely a warning period, with a shutdown possible after that deadline, which expires around August 7.
A source close to the oil industry said on Wednesday that full preparations to close the pipeline had not begun and crude was still flowing.
An oil analyst earlier told AFP that 45 days would be required to complete a shutdown without damaging the infrastructure.
Juba denies supporting the insurgents and in turn says Khartoum assists rebels on southern soil.
Observers say that, in reality, both governments have aided each other's rebels.
The investigative panel was already in Khartoum and would later visit Juba, Mbeki said, adding that the team handling the buffer zone centreline would begin fieldwork in two days.
South Sudan became independent two years ago under a peace deal which ended a 22-year civil war. It took with it most of the formerly united Sudan's 470,000 barrels per day of oil production.
The pipelines and the Red Sea export terminal remained in the north.
After a fee dispute and intermittent border clashes, South Sudan in April resumed pumping its oil, which began slowly moving towards the Port Sudan terminal.
The South's export revenues, and the fees due Khartoum for use of the infrastructure, are potentially worth billions of dollars to both impoverished nations.