Girls held by Boko Haram face auction, life as sex slaves if rescue fails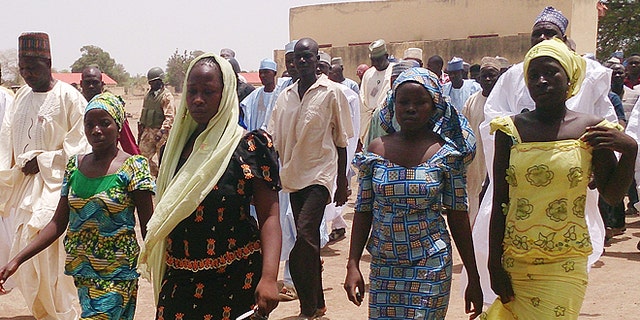 The hundreds of Nigerian girls kidnapped by Boko Haram could face a life of misery, as slaves or child brides sold for a pittance in the markets across the globe if they are not rescued soon, humanitarian experts say.
While boys abducted in Nigeria and other war-torn African countries face the misery of a life where they are forced to become beggars, miners or child soldiers, girls like the nearly 300 mainly Christian teens abducted by the Boko Haram last month are more likely to be dispersed throughout the continent, Russia, the Middle East and even Europe, sold for a few dollars and forced to become prostitutes. Some escape, and make it back to their villages, while others are forced into the sex trade and exposed to brutality and disease.
"We can safely assume that the abducted girls have been raped by their captors, if not worse," Rona Peligal, deputy director for the Africa Division of Human Rights Watch, told FoxNews.com. "If they return home, they could be traumatized and stigmatized if they are known to be raped, pregnant or with child from their abductors. What happens if they're trafficked would likely pale by comparison."
[pullquote]
According to Red24, a South Africa-based crisis management firm, there are more than 9,000 kidnappings annually in sub-Saharan Africa, with Nigeria accounting for more than two-thirds of them. The firm estimates that the number of child abductions could be in the thousands with many children being abducted to become child soldiers, slaves, prostitutes or child brides.
If the girls, who Boko Haram leader Abubakar Shekau is seen gloating on video vowing to sell, are not rescued, they could end up taken to West and Central African countries such as neighboring Chad, Ghana and Cameroon, where ruthless brokers of human lives bid for their bodies at clandestine markets. Some, like Lady Rosaline Tarh, whose plight was chronicled in 2011 by a coalition of humanitarian organizations, don't get far. She was forced to work as a waitress in a Cameroon restaurant by day, and service up to 10 men per night. When she contracted HIV, she was cast aside.
"Five years later I was tested HIV positive and [her tormentor] sent me away," she said. "My life is now destroyed because no man can get married to me."
Others are taken by caravan through the desert, forced to have sex along the way to repay their captors' travel expenses. Their ultimate destinations vary, from the coffee and cocoa plantations of Uganda and Ethiopia, brothels of Russia or the palaces of the Middle East where they are employed as nannies, often subject to physical and sexual abuse.
Some of the missing girls, most of whom were abducted in a raid on the Chibok Girls' secondary school in Nigeria's northeastern Borno State, could remain with Shekau and his band of jihadists, estimated to number between a few hundred and a few thousand, and believed to be hiding in the vast Sambisa Forest in northeastern Nigeria. Experts have said they could serve as human shields, preventing the Nigerian military from bombing the rugged and impenetrable wilderness, as well as becoming the child brides of Shekau's fighters.
The Obama administration has pledged to help the Nigerian government attempt to rescue the girls, and has assembled a team of military and law enforcement agents to provide logistical support.
Christians who have long been persecuted by Boko Haram in the nation's north know the horrors that await their daughters at the hands of Boko Haram and the sex trade.
"Daughters of Zion taken captive, to be treated as slaves and sold into marriage to unclean people," Matthew Owojaiye, pastor of the Old Time Revival Hour Church in Kaduna, said at a service in which he released an incomplete list of names of the abducted girls. "Abomination has been committed."
Peligal said Boko Haram's reasons for targeting the schoolgirls, who had been dismissed from school due to the danger but had returned for exams, could vary.
"It is difficult to understand why Boko Haram would target this particular school," Peligal said. "It could be that the insurgents considered the reopening of the school so close to a Boko Haram camp an affront. Or it may just be that, because of their constant movement, the insurgents needed a new supply of women and girls to take care of their domestic and sexual needs."
The mass abduction is one of the most extreme examples of students and schools being attacked by extremist groups according to Peligal, who says that in the last five years, a total of 30 countries have seen attacks on educational facilities.
"Schools and universities have been bombed and burned, and students, teachers and school officials killed, maimed, raped, forcibly recruited by armed groups, and extorted precisely because of their connection to education," she said, citing the well-known incident involving Pakistani student Malala Yousafzai, who was shot by the Pakistani Taliban when she was 15 simply because she was outspoken in her efforts to improve girls' education in the country.
In Somalia, jihadists from the Islamic terrorist group Al-Shabaab in January 2011 took 14- and 15-year-old girls at gunpoint from schools for forced marriage to fighters. Their fates remain unknown. An April 2012 case in the Democratic Republic of Congo saw followers of international war criminal Bosco Ntaganda seize 32 boys from a secondary school in North Kivu. The boys were later rescued, but not before their captors bound their hands, marched them to a military camp and forced under threat of death to train as fighters.
In Nigeria, Shekau first threatened more than a year ago to kidnap women and children in retaliation for arrests of his fighters and their families. At the time, the Nigerian government responded by releasing nearly a hundred of them. More threats were made recently by the Boko Haram leader when hundreds of insurgents were killed during an attack on their barracks in Maiduguri.
The kidnappings have taken a toll that extends beyond the victims and their families. The threat of abduction has effectively brought education to a stop in especially troubled areas, according to humanitarian groups. Between February and May, more than 15,000 students in the northern region of Nigeria stopped attending school out of fear of attacks.
"It's heart-stopping data," Susan Bissell, child protection chief for UNICEF, told FoxNews.com. "This is not only happening in Nigeria. There seems to be increased attacks across the globe of schools and even hospitals."