Girl gets hair sucked into Canary Islands hotel pool filter, nearly drowns, family says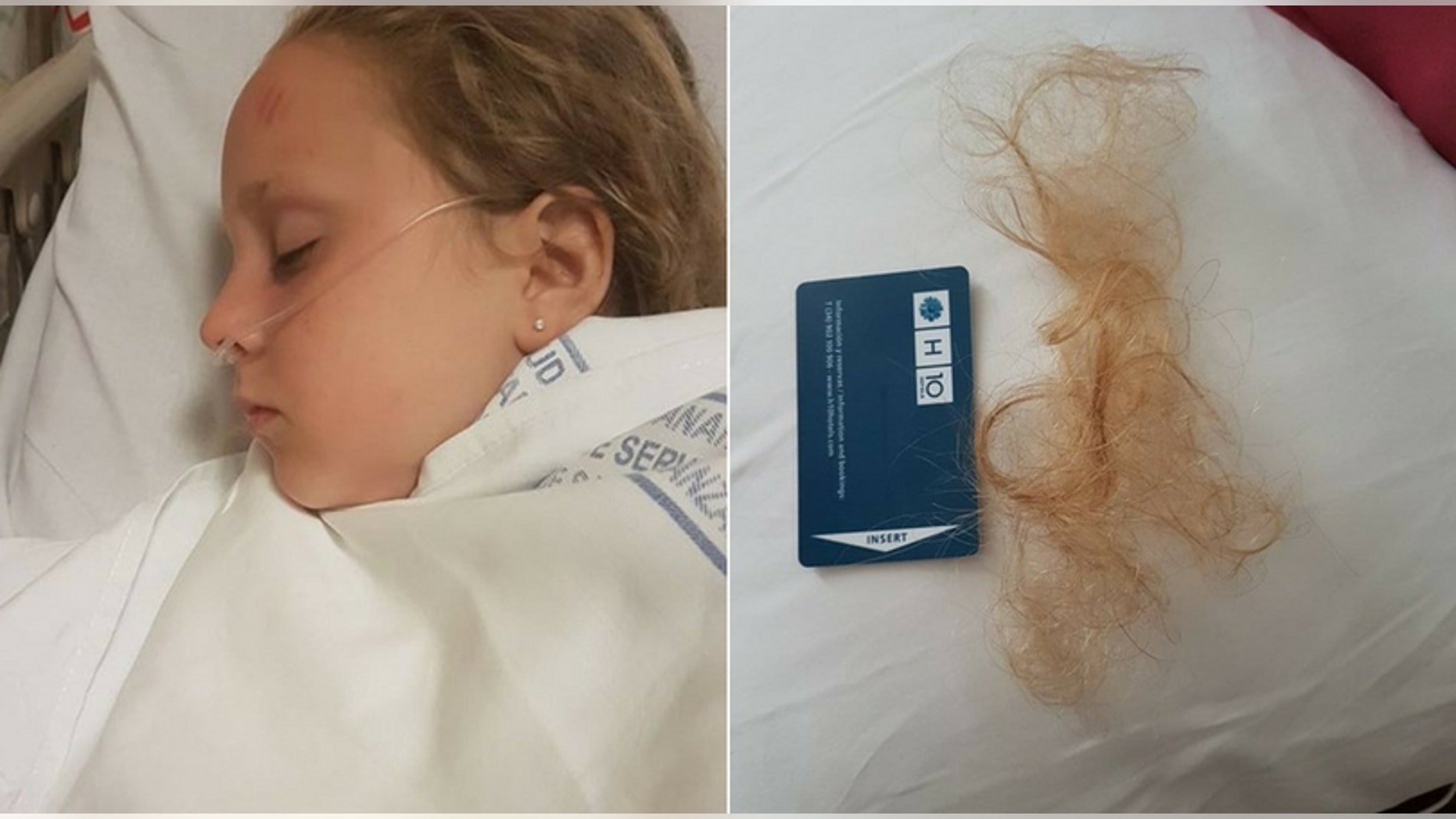 A 6-year-old girl nearly drowned in a hotel swimming pool when her hair got sucked into the filter while she was vacationing on an island in the Canaries, her mother claimed.
Darcey Morgan and her family were staying at H10 Rubicon Palace in Lanzarote during Easter holiday when she decided to go swimming in the hotel pool, her mother Alex Morgan wrote on Tuesday in a lengthy Facebook post. The family booked the vacation through the travel group First Choice.
Morgan said her daughter was underwater when the filter, which operates the pool's the waterfall, sucked her hair in, dragging and holding her down as she gasped for air.
"She was kept under the water for over 2 minutes. Some incredibly brave people saved our little girl's life that day. Her hair was pulled and pulled before it was ripped," Morgan wrote.
MAN DIES FROM FLESH-EATING BACTERIA AFTER SWIMMING WITH NEW TATTOO
They eventually got her out of the water and administered CPR at the poolside. Darcey received multiple X-rays, tests and was placed under close observation as she recovered from the near-death experience. She lost four clumps of hair from her head.
"Her oxygen levels were low and she has lots of fluid on her right lung. Luckily we got to bring Darcey out of hospital the following morning. However, it could have been a completely different ending to our holiday," Morgan recalled.
"This was the worst day of our lives. We are still suffering to come to terms with it all now but also feel incredibly lucky to still have our beautiful, brave little girl."
Morgan claimed the hotel handled the situation poorly and even tried to hide evidence such as her daughter's hair that was pulled out of the filter. She added that the staff never conducted a proper investigation or shut down the facility after the incident.
"Two days before the incident with Darcey, the same filter sucked in a 9 year old boys swimming shorts as he swam past. It was reported to the lifeguard a total of 4 times by different holiday makers before the incident with Darcey occurred and neither time was it logged or investigated," she alleged.
MOTHER DENIED BOND IN 3-YEAR-OLD DROWNING DEATH IN POOL
The family also heard nothing from First Choice, who promised to them they would investigate the incident, Morgan said.
The mother added she didn't want other families to have the same horrifying experience. She included photos of her daughter in the hospital with the clumps of hair that was torn from the 6-year-old's scalp.
"Myself and Gareth don't want any other parents/family members to go through what we experienced that day. We will never get over what happened but if this post can raise some awareness, save someone's life, then we will be happy," Morgan wrote at the end of her Facebook post.
First Choice said in a statement to Fox News that they took "immediate action to resolve the issue."
"We were extremely concerned to hear of this incident – which is the only one of its kind which was reported directly to us in resort – and as soon as we were made aware we started a full and thorough investigation together with relevant external pool experts and our hotel partner."
"At the same time we contacted the family to offer our support, which remains available to them, and we have been back in touch with them directly very recently to update and reassure them on the steps we have taken. We continue to ensure that the health and safety of all of our holidaymakers is our top priority," the statement read.
Officials from H10 Rubicon Palace did not immediately respond to Fox News' request for a statement.