Giant yellow duck finds new home in Taiwan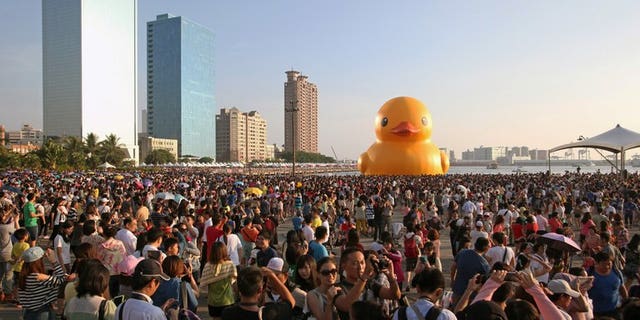 TAIPEI (AFP) – A Dutch artist's now-famous giant yellow duck found a new temporary home Thursday, this time in Taiwan, but an approaching typhoon could ruffle the inflatable's feathers.
Thousands of people watched and cheered as Florentijn Hofman's 18-metre-tall (60 feet) duck -- a slightly larger version of the one that captivated Hong Kong recently -- was inaugurated at a dock of Kaohsiung harbour.
"We hope people visiting here can feel the strength of happiness and love delivered by the duck," mayor Chen Chu said at the noisy and colourful opening ceremony featuring musical performances and tug boats spraying water.
The giant bath-toy replica will be on display for a month.
But it faces the imminent threat of Typhoon Usagi, which was gaining momentum while churning towards the island. The duck will be deflated and lifted to land as the storm closes in over the coming days.
Since 2007 the original duck -- slightly shorter at 16.5 metres -- has travelled to 13 different cities in nine countries ranging from Brazil to Australia in its journey around the world.