Getting out of South Sudan can be a harrowing journey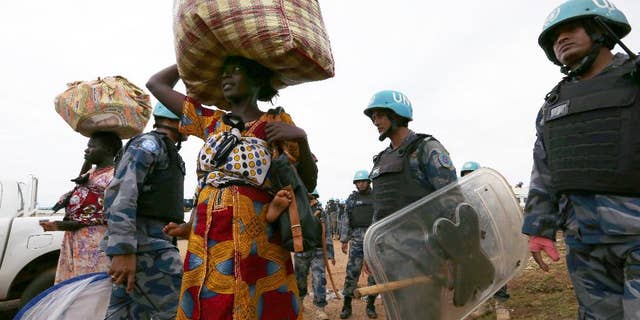 NEWYou can now listen to Fox News articles!
KAMPALA, Uganda – As the fighting raged in our neighborhood in South Sudan's capital of Juba, we crammed under a bed. Bullets flew over our rooftop. A shell landed nearby, sending shrapnel flying and shaking the house.
I knew I had to get out.
The gunfire had begun Friday evening between opposing army factions. By Sunday morning, some of the shooting was only a few hundred meters (yards) from my house in Juba's Tongping neighborhood, near the army headquarters.
I felt unsafe and, like many others, I feared a return to the civil war that had recently shattered South Sudan. I decided to leave for my home in neighboring Uganda.
On Monday night, both President Salva Kiir and his former rebel rival, First Vice President Riek Machar, had ordered their supporters to stop the fighting. When I left Tuesday morning, it seemed that the cease-fire had taken hold. That was our chance to leave.
Hundreds of people had been killed in the fighting. On Monday evening, I saw a military truck carrying the bodies of dead soldiers. Others reported seeing bodies in the streets.
Would the quiet hold? Some in the capital weren't waiting to find out. Tens of thousands of people fled their homes to U.N. bases and other sites, but others were leaving the country, scared that the fighting would once again spark ethnic violence.
We set off, a mix of 20 foreigners and South Sudanese in a three-vehicle convoy, along the Juba-Nimule road, the 200-kilometer (124-mile) artery which connects South Sudan to the Ugandan border.
It normally takes three hours to drive to the border, but it took us more than six hours because of the many roadblocks along the way.
The signs of violence were everywhere. I saw six cars that had been shot at and abandoned by the road. Three vehicles were completely burned. Later, people I met at the border said the vehicles had been shot and burned the previous day.
And people had been killed along the way.
Victor Ochieng, a young Ugandan man who had been working in South Sudan, told me how someone seated next to him died from his bullet wounds.
"When the attackers started shooting from all sides of the bush, our driver continued to drive, even when one of the tires was hit and it became flat," he said. "By the time we reached the border, the man next to me had died from bleeding."
The roadblocks, manned by the military and other security forces, were a threat as well.
The forces stole and extorted money from people trying to leave South Sudan. Soldiers searched all our bags and vehicles. They didn't say what they were searching for; they just took cell phones, money and jewelry.
I hid my mobile phones under the car seat, and I gave some of my money to a woman in our convoy who hid it under sanitary napkins she was wearing specifically for this purpose.
Each one of us paid an equivalent of more than $150 to forces at these impromptu checkpoints.
At one roadblock, soldiers who saw my Ugandan passport said, "You foreigners have been making money in South Sudan. Now that there is war, you are trying to take away your loot to a safe place. Unless you give me 200 South Sudanese pounds ($32), you won't leave South Sudan today."
Another soldier told one of my colleagues, "We South Sudanese soldiers are not even paid. Do you think it is fair for you to have money and even take it out of this country when we soldiers are not even paid and our children are suffering?"
We managed to make it across the border, but security forces were barring South Sudanese from leaving the country.
Three people traveling with us were sent back to Juba at different checkpoints. Two young women who had bribed their way right to the border were turned away and not allowed to leave South Sudan. They were sent back because the identity documents they presented were South Sudanese.
At the town of Nesitu, soldiers ordered a minibus carrying South Sudanese to return to Juba. "Where are they going? What are they leaving the country for?" a soldier said loudly.
It appeared that some soldiers were acting on their own to bar South Sudanese from leaving in an effort to control the image of a county where, once again, things had gone bad.
But a police officer who spoke to me, insisting on anonymity because he was not authorized to speak to the media, told me that security forces had received orders to stop South Sudanese, especially men, from leaving the country.
Now that I am home in Uganda, I feel relieved. I am happy to be back with my wife and children. But I am worried about colleagues, friends and relatives who are still stuck across the border.
Despite the fragile cease-fire, the situation is so volatile and fluid that anything could happen, anytime.