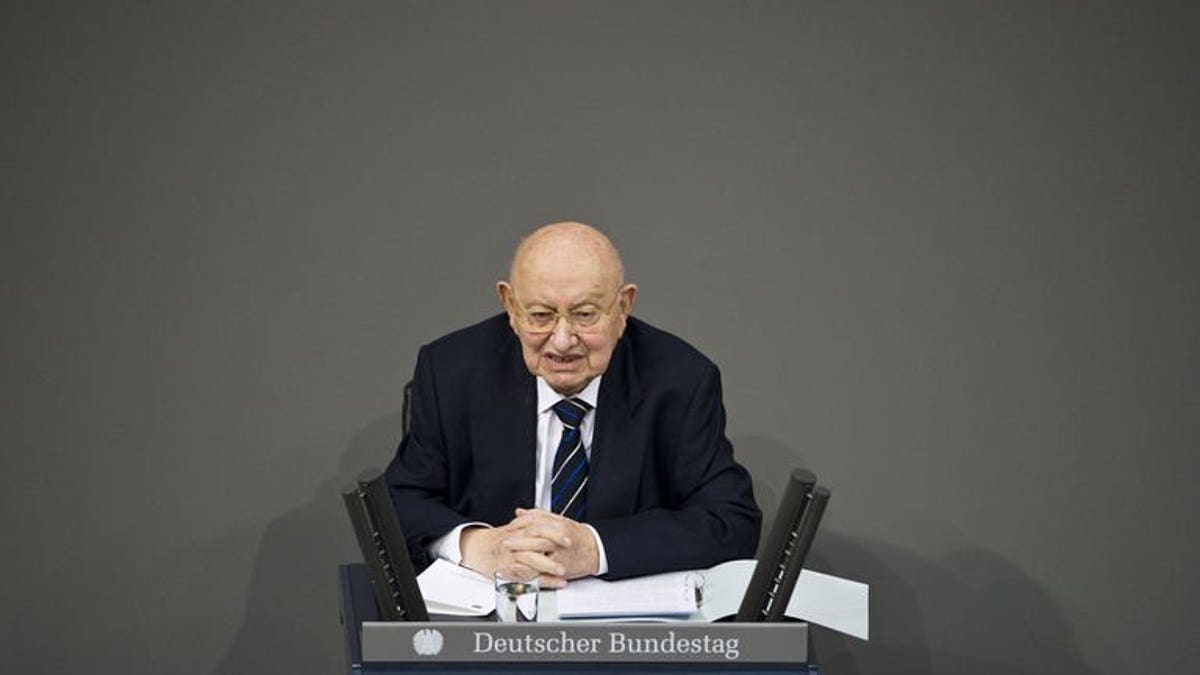 FRANKFURT (AFP) – Marcel Reich-Ranicki, Germany's leading literary critic and Holocaust survivor, has died aged 93, the Frankfurter Allgemeine Zeitung newspaper, of which he was book editor for many years, said on Wednesday.
Reich-Ranicki was a Polish-born Jew who became the most influential literature critic in his adoptive country of Germany after World War II.
The renowned and feared reviewer, who for years made and broke literary reputations in newspaper articles and on television, was born Marcel Reich to a Polish Jewish father and a German Jewish mother in Wloclawek, central Poland.
He attended a German school there but was later sent to Berlin to study.
The young Reich taught himself about literature by reading all the German classics and by closely following the theatre. But as a Jew he was unable to enroll at university in 1938 and was then expelled back to Poland.
Confined to the Warsaw Ghetto during the war, he and his wife Tosia managed to escape to the countryside in 1943 where they were hidden by a Polish family. Their parents died in the concentration camps.
After the war, he worked for a time for the Polish secret service in London where he went under the name Ranicki.
He was later expelled from Poland's communist party for his lack of "Stalinist discipline" but still returned to Warsaw where he started publishing East German authors and working as a critic of German literature.
He emigrated to West Germany in 1958 where he immediately found work as a literary critic at the prestigious weekly Die Zeit, and then at the daily Frankfurter Allgemeine Zeitung.
Asked a few years later whether he felt more Polish or more German, he said he thought of himself as "half Polish, half German, and completely Jewish".
Reich-Ranicki became a household name in Germany mainly due to his highly successful public television programme "The Literary Quartet" which he hosted from 1988 to 2001, and on which he discussed more than 400 books.
His unchallenged power and definitive pronouncements earned him the sobriquet "the pope of literature".
But the sharp-tongued Reich-Ranicki was, on occasion, involved in running feuds with authors, including Nobel prize-winner Gunter Grass.
Another author, Martin Walser, caused a public scandal in 1999 when he published a book entitled "Death of a Critic", widely seen as a venomous attack on him.
Reich-Ranicki published his own autobiography, "My Life", in 1999 and the book, translated into some 20 languages, sold over one million copies.
Chancellor Angela Merkel hailed him as "an incomparable friend of literature, but of freedom and democracy as well".
"The fact that this son of a Jewish German-Polish family, who lost his parents and relatives in the Nazis' extermination camps, found a home again in Germany and gave our country so much is among the events of the post-war period for which we can only be grateful," she said in a statement.
"Not even the murderous hatred of the Nazis could drive his love of literature, particularly of the German writers, out of him."
She added: "I will miss this passionate and brilliant man"."