Germany's Deutsche Bank cuts bonuses following US settlement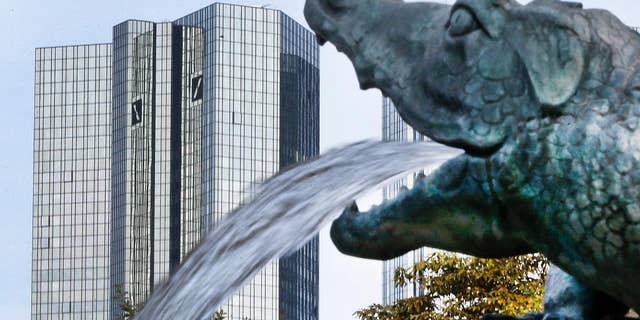 NEWYou can now listen to Fox News articles!
BERLIN – Deutsche Bank is cutting its managers' bonuses for 2016, saying Wednesday that it needs to take "tough measures" in light of the company's performance and a settlement with the U.S. Justice Department.
The management board said in a message to employees that vice presidents, directors and managing directors will receive group variable compensation but no individual bonuses for the financial year. It said that around three quarters of employees will be either unaffected or "hardly affected" by its move.
The management board has decided unanimously to waive its own bonuses for 2016, it added. The company plans to return to "normal compensation programs" for 2017.
Deutsche Bank last month agreed to a $7.2 billion settlement with the Justice Department over its dealings in mortgage-backed securities. That lessened a financial cloud over the shares of Germany's biggest bank, which had said earlier last year that it might have to pay as much as $14 billion.
The bank has been struggling to put expensive litigation from past misconduct behind it. It said it would take a $1.17 billion hit to its fourth-quarter earnings arising from the civil penalty. CEO John Cryan is putting the bank through a tough restructuring, including job cuts, in an attempt to improve profitability and strengthen its finances.
Wednesday's letter highlighted "significant progress in resolving legacy matters and restructuring our bank" over recent months.
"Now that we have a clearer idea of the financial impact of the settlement ... and our performance for the year, we feel that tough measures are unavoidable," it added. "This is especially true at a time when thousands of jobs are being cut and our shareholders are not receiving an annual dividend."
Deutsche Bank shares dipped 0.4 percent to 17.41 euros ($18.55) in afternoon trading in Frankfurt.