Germany resumes train service as refugee crisis intensifies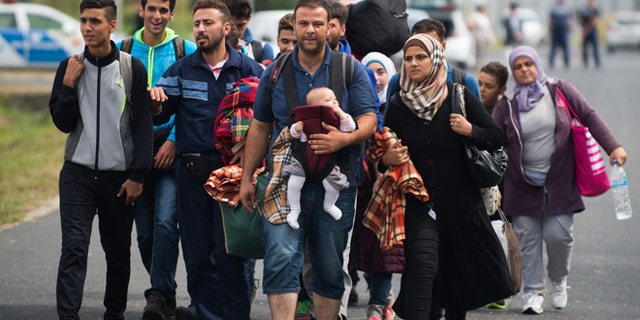 NEWYou can now listen to Fox News articles!
Germany resumed train service from Austria Monday after suspending it for about 12 hours in an attempt to better prepare for the wave of Syrian refugees streaming across its border.
Germany has been the final destination for many refugees trying to escape the violence in their homeland that has them caught between President Bashar Assad's forces and terror groups like ISIS. They have either traveled over land via Turkey and the Balkans or braved the dangerous Mediterranean Sea crossing to Italy or Greece.
The temporary halt to train service was "not about a closing of borders and absolutely not a suspension of the basic rights to asylum," Germany's Vice Chancellor Sigmar Gabriel insisted, defending the weekend's border controls in a letter to his Social Democratic Party.
Gabriel estimates the country will take in 1 million refugees from the Middle East, Africa and Asia this year. The number of people expected to seek refugee status has grown from initial estimates of 800,000.
Meantime, dozens of Hungarian police are blocking a key rail passing, halting hundreds of migrants in their tracks. Police say they plan to block the rail line itself later with a train cargo container.
Police are instead directing migrants to head through farm fields to Hungary's nearest approved border crossing 1 mile to the west.
"Not about a closing of borders and absolutely not a suspension of the basic rights to asylum"
In Austria, the interior minister declared Monday his country will follow Germany's lead in introducing border checks. Austrian Chancellor Werner Faymann said he would deploy the country's military to the border with Hungary to help police dealing with the refugee surge if needed.
Faymann also said the army would focus on providing humanitarian help inside Austria.
Slovakia also announced Monday its renewed checks on its border with Hungary and Austria, and Poland's Prime Minister Ewa Kopacz said it would restore its own border controls if it saw any outside threats.
Finland says it will increase monitoring at its borders as hundreds of asylum seekers flood in daily from Sweden. It's also opening reception centers for migrants in northern Finland, especially along the border.
About 1,700 asylum seekers arrived in Finland last week, many by train through Sweden to a border crossing where there are no identity checks.
Germany and Austria agreed more than a week ago to let in thousands of refugees who had gathered in Hungary, saying it was a one-time measure to ease an emergency. Still, the influx has continued.
Berlin's decision to temporarily freeze the border appears to show that even Germany is at risk of being overwhelmed by the sheer numbers trying to enter the country. On Saturday, 13,000 people crossed into Germany from Austria, and another 3,000 crossed the border Sunday morning before the border checks were implemented.
European Union interior ministers are meeting Monday for emergency talks in Brussels. The ministers will attempt to narrow a growing divide over how to share responsibility for the thousands of refugees arriving daily and ease the burden on frontline states.
E.U. President Jean-Claude Juncker called last week for members of the 28-nation bloc to resettle 160,000 refugees over the next two years. The ministers were expected to confirm the distribution of an initial 40,000 refugees, but this scheme was conceived in May and some nations still do not plan to take in their share before year's end.
The E.U. is looking for member states to contribute military ships and planes for an international operation in the Mediterranean to fight human trafficking. If approved, the ships could seize and divert vessels not carrying national flags in international waters. The E.U. would still need to decide whether lethal force could be used to stop smugglers. The approval process could still take weeks.
The Associated Press contributed to this report.