Germany charges 93-year-old alleged Auschwitz guard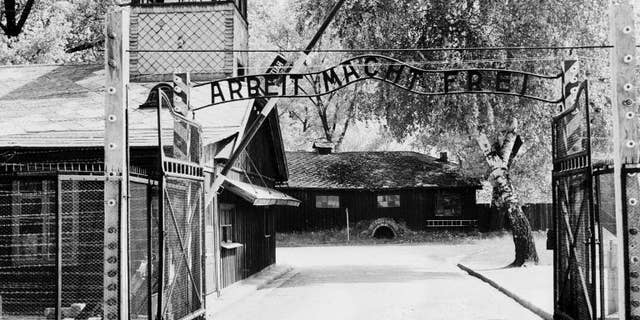 Berlin (AFP) – German prosecutors said Thursday they had charged a 93-year-old alleged former guard at the Nazi death camp Auschwitz with complicity to murder.
The accused, who was not identified by prosecutors but has been named by media as Hans Lipschis, was deported to Germany from the United States in the 1980s for failing to reveal his SS past.
He was arrested in Germany in May.
The public prosecutor's office in the southwestern city of Stuttgart said the charge related to his duties in the camp between 1941 and 1943.
Through his function there, he is alleged "to have supported the operation of the camp and thereby the extermination activities", it said in a statement.
During his time at Auschwitz, 12 prisoner transportations arrived at the camp, it added.
Lipschis has not responded to the charge but in the past he has reportedly said he only worked as a cook at Auschwitz.
For more than 60 years German courts only prosecuted Nazi war criminals if evidence showed they had personally committed atrocities, but since a 2011 landmark case all former camp guards can be tried.
In that year, a Munich court sentenced John Demjanjuk to five years in prison for complicity in the extermination of more than 28,000 Jews at the Sobibor camp, where he had served as a guard.
The German office investigating Nazi war crimes said early this month it would send files on 30 former Auschwitz death camp personnel to state prosecutors with a recommendation to bring charges.
After the war ended, Lipschis initially lived in northern Germany until emigrating to Chicago in the US in 1956, the prosecutor's statement said.
But in the early 1980s it emerged that he had failed to disclose his SS membership as part of the personnel at Auschwitz and he was denied US citizenship. In late 1982 he was deported.
He has since lived in the district of Ostalb, in southwestern Baden Wuerttemberg state, and a court in Ellwangen must now decide whether to go to trial.
The Simon Wiesenthal Center, in its 2013 report, lists Lipschis as its fourth most-wanted Nazi.
More than one million people, mostly European Jews, perished at Auschwitz-Birkenau, operated by Nazi Germany in occupied Poland from 1940 until it was liberated by the Soviet Red Army on January 27, 1945.