Germany Arrests 3 Al Qaeda Suspects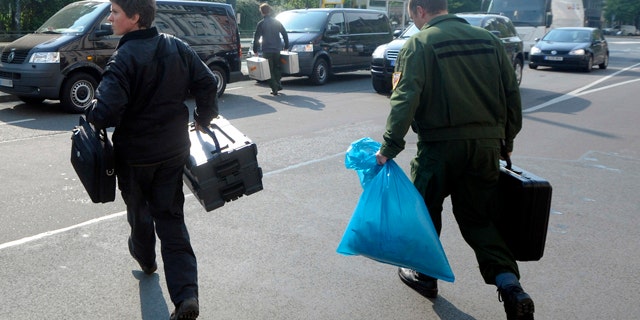 BERLIN – German police on Friday arrested three suspected members of the Al Qaeda terrorist organization who officials say posed a "concrete and imminent danger" to the nation.
Authorities did not say whether the three had planned specific targets and offered few details, but security officials said that all three suspects were of Moroccan origin. They also said that two were arrested were in the western German city of Duesseldorf and one in nearby Bochum. The arrests were based on suspicion they were planning a terror attack, they said.
The arrests "succeeded in averting a concrete and imminent danger, presented by international terrorism," German Interior Minister Hans-Peter Friedrich said in a statement. They showed "Germany remains a target of international terrorists."
Germany has escaped any large-scale attack by an Islamic terror organization, such as the Madrid train bombings of 2004 and the London transit attacks of 2005. But Germany's presence as part of the NATO coalition in Afghanistan has sparked anger and at least two major plots have been thwarted or failed in Germany before they could be carried out.
The suspects had been under surveillance since November when Germany increased security across the country in response to heightened terror threat warnings in Europe, but authorities only had enough evidence to launch an official criminal investigation starting April 15, German Interior Minister Hans-Peter Friedrich said in a statement.
Federal prosecutors said earlier they had ordered Germany's federal police to arrest the trio, but gave no further information about the timing or location of the arrests. Officials were planning a news conference for Saturday.
A U.S. official speaking on condition of anonymity in order to discuss an ongoing investigation told The Associated Press in Washington D.C. that a SWAT team picked up three people in a raid on suspicion they were planning an attack with explosives.
"Our concerns about threats in Europe had a number of different threads and strands, some of which have been disrupted by good intelligence and law enforcement work by the relevant services," another U.S. official told the AP on condition of anonymity.
"There have been five disrupted plots in Europe during the past four years -- including a credible plot in Germany in 2007 -- all of which demonstrate Pakistan-based Al Qaeda's steadfast intent to attack the US and our allies."
Duesseldorf, a city of 600,000 has one of the largest Moroccan immigrant communities in Germany. It is to host the Eurovision Song Contest on May 14, which is expected to draw hundreds of thousands of spectators.
The German prosecutors said the three alleged terrorists would be brought before a judge Saturday who will decide whether they are to remain in detention pending a trial.
Germany raised its security posture in November after receiving information from its own and foreign intelligence services that led authorities to believe a sleeper cell of some 20 to 25 people may have been planning an attack inside the country or in another European nation.
Around the same time Germany also received information from U.S. sources that an attack similar to that in Mumbai in Nov. 2008 that killed 166 may be planned for Germany, the official said. Later, Germany received information on possible attacks at Christmas or New Year's.
In February, the German government lowered the terror level and reduced the number of police officers patrolling railway stations and other public places, but made clear at the time that a threat to the country still remains.