Germanwings crash: Some relatives of victims refuse to take flight to crash site out of fear of flying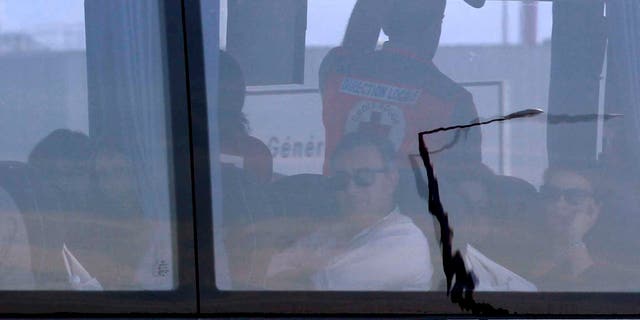 NEWYou can now listen to Fox News articles!
A group of 14 Spanish relatives of those killed in Tuesday's Germanwings crash opted to take a bus, not a plane, to get to the site in Southern France that holds their loved one pulverized remains.
Some of them said they were too afraid to fly and would rather spend six hours on a bus, they told the Spanish news wires service EFE.
The group of 14 left Wednesday night for Marseille, assisted by personnel of the Emergency Medical System (EMS) and the Red Cross. Once in Marseille, they joined 64 other family members who did take a plane and from there traveled together to the commune of Seyne-les-Alpes.
While waiting to board the Lufthansa charter plane in Barcelona's El Prat airport, a woman with visibly shaky hands and a trembling voice showed her ticket to a Spanish reporter: "I have no choice but to fly. My family is telling me, 'Calm down, two accidents will not happen in two days,'" El Periodico reported.
The grieving relatives took the flight to Marseille accompanied by a team of doctors, nurses, psychologists and even a priest, who tried to make the one-hour trip more bearable.
The president of Lufthansa, Carsten Spohr, and the CEO of Germanwings, Thomas Winklemann, met Wednesday in Castelldefels with the families of the Spanish victims. According to a report in the Spanish newspaper ABC.es, Spohr described the meeting as "tough and emotional" and said that "what is happening is incomprehensible."
In a press conference at El Prat, Spohr said the goal of the company was to cater for families "in the best way possible" and provide psychological and financial support, if necessary.
The Spanish government announced Thursday morning that 50 victims were now believed to be Spaniards, down from 51 on Wednesday. One of the victims lived in Spain but did not have Spanish citizenship.
Like us on Facebook
Follow us on Twitter & Instagram