Germans battle refugee sex assaults with signs, cartoons
BERLIN – Rocked by a wave of sexual assaults committed by migrant men, Germany is fighting back with cartoons, in a PC campaign critics say would be comical if it didn't address such a serious issue.
In a national effort already blasted by critics as demonstrating the government's ineptitude in dealing with unruly refugees from the Middle East and North Africa, authorities have distributed anti-sexual harassment cartoon leaflets at public swimming pools and other public facilities. One depicts a hand reaching for a shapely, bikini-clad woman's backside, and bears a universal-language slash demonstrating such behavior is forbidden.
"No verbal and bodily sexual harassment toward women in any kind of clothing," reads the caption below.
Mass sexual assaults of women by refugees during New Year's Eve celebrations sent shockwaves through the nation. The attackers were believed to be among the estimated wave of 1 million Muslims who have poured into Germany in the last year, prompting a culture clash that critics say Berlin has been slow to grasp.
Before and after the New Year's Eve attacks, hundreds of which occurred in Cologne, there were widespread reports of male refugees sexually harassing and assaulting women in public. Many of the incidents occurred at the nation's popular public swimming halls, where authorities this week posted signs and issued codes of conduct to discourage the violent behavior.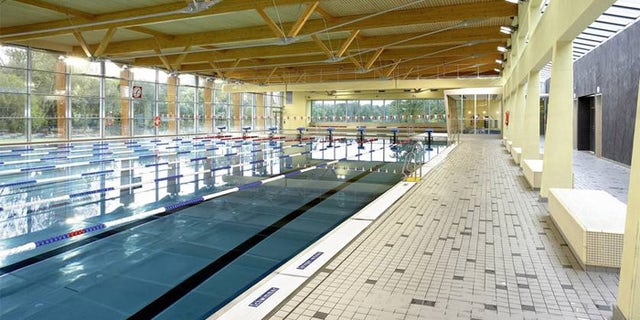 In the East German city of Leipzig, migrants have followed women into restroom and changing facilities, according to the newspaper Mitteldeutche Zeitung. Elsewhere, male refugees have jumped into pools fully clothed or wearing underwear and groped female bathers. Officials in several communities, including the Bavarian capital of Munich, have responded with anti-sexual harassment cartoon leaflets to stop the increasing number of sexual attacks and aggression in public swimming facilities.
"These signs are a good step, but they can only be a first initiative of more security measures to come," Saba Farzan, executive director of Foreign Policy Circle, a Berlin strategy think tank, told FoxNews.com. "Protecting our women from vicious assaults means to teach refugees as well as migrants about gender equality."
But critics say laws, not leaflets and signs, should be used to protect women from assault.
"If our criminal and asylum laws can't discourage perpetrators of sexual harassment and the activity of other offenses, what effect can signs in swimming facilities have?" Cologne-based lawyer Stefanie Galla told FoxNews.com.
The codes of conduct and leaflets are being printed in multiple languages, including Arabic and English. The city of Leipzig also plans to rapidly introduce English signs about appropriate conduct and multi-language information pamphlets. Security cameras are set to be installed in the swimming facilities. Berlin, the capital of Germany, announced this week that it will introduce behavioral codes and signs for refugees who enter swimming buildings.
The small western town of Hermeskeil now requires that refugees participate in a 30-minute behavioral class before entering public swimming pools. The city requires that the migrants read 10 rules and sign a pledge that they will follow them before issuing an entry card for swimming.
"Swimming is only allowed in swimwear (not in underwear or jeans or T-shirt)!" reads one of the rules.
Some communities have found the education approach lacking. Last week, the town of Bornheim began barring adult male refugees from a public swimming facility because of sexual assaults. Bornheim has a population of about 45,000, and has absorbed approximately 800 Muslim refugees.
Sexual assaults also have been reported on public transportation facilities. Christian Janele, a city council representative in the Bavarian city of Regensburg, has suggested pink-colored "Lady Zones" where women would be separated from men. The bill, which was rejected by the city, was not prompted by the refugees, Janele insisted.
In the wake of the Cologne attacks, a prominent Muslim imam, Sami Abu-Yusuf, told reporters women were to blame because they "dress half naked and wear perfume." The outrageous claim prompted Green Party Member of Parliament Volker Beck to file a criminal complaint against the cleric.