German public service employees strike third straight day in bid for higher wages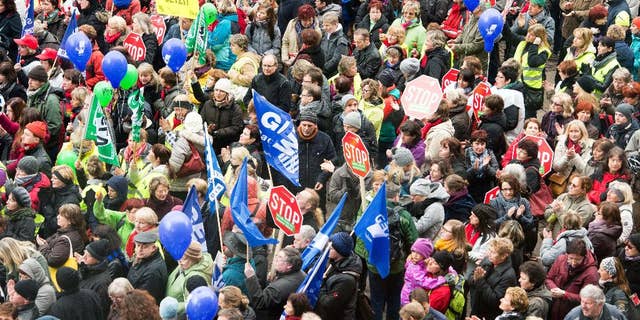 NEWYou can now listen to Fox News articles!
BERLIN – German teachers and other public service employees are staging short-term strikes for a third day to put pressure on the government ahead of a new round of wage negotiations.
The ver.di union said Friday's strikes would focus on the states of Bavaria and Baden-Wuerttemberg. A total of nearly 100,000 teachers, firefighters, police officers and others staged one-day strikes Wednesday and Thursday in other states.
With new talks scheduled to begin next week, the union says it has received no counter-offer to its demand for a minimum 5.5 percent pay increase. It's also fighting against a change in pensions it says would reduce benefits by 20 percent.
Verdi represents some 800,000 public workers but says a new agreement could also apply to a further 1.2 million employees, and 700,000 already-retired workers.