German Police Detain 2; Search Islamic Center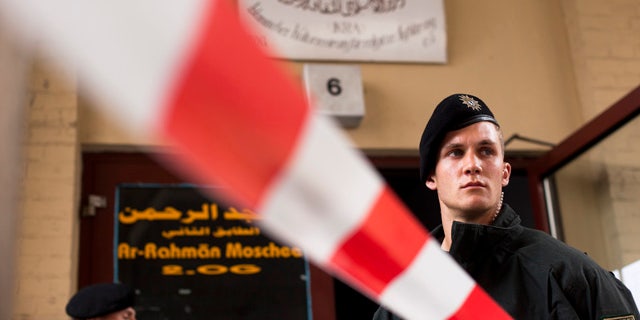 Berlin – Berlin police detained two men on Thursday suspected of obtaining ingredients for a bomb after a tip from foreign intelligence agencies to a potential threat, officials said.
The men were detained three days before the 10th anniversary of the Sept. 11, 2001, attacks, and followed a statement by the interior minister that threats to Germany remained "real and intensive."
Officers searched an Islamic center in Berlin where the pair had spent time and the apartments of the two suspects, a 24-year-old German of Lebanese descent and a 28-year-old from Gaza, police spokesman Thomas Neuendorf said. The men, who were not otherwise identified, are suspected of working together to plan "a violent criminal act," and police had watched them for several months, he said.
A high-ranking security official told The Associated Press that foreign intelligence agencies informed German authorities in late June that the pair posed a potential threat. He wouldn't elaborate on which agencies.
"We were told by the foreign intelligence agencies that one of the suspects was trying to buy bomb-making material," said the official, who spoke on condition of anonymity because of the sensitivity of the issue. He also confirmed that investigators found the material in one of the suspects' apartments Thursday.
"While this plot gives reason to concern, it is in no way comparable to previous terror plots in Germany and they two do not seem to have links to any known terror groups," he said, adding that the security level in Germany remains unchanged.
Unlike Britain or the United States, Germany does not have a state of alert, but maintains security through increased measures often not immediately visible to the public.
The Islamic center that was searched is located in the heavily immigrant Wedding neighborhood.
Some 10 police vans were seen around a building in a formerly industrial area during the search.
Rainer Wendt, the head of the German police union, told The Associated Press the case reflects authorities' vigilance.
"The suspects caught the attention of the police at an early stage, when they bought the material to build a bomb, and the police were able to arrest them in due time," he said.
Interior Minister Hans-Peter Friedrich, Germany's top security official, told the German media over the weekend that authorities "work intensively" to prevent attacks.
German officials say they have thwarted six attacks since the 2001 assault that killed thousands in the U.S.
In April, German police arrested three suspected al-Qaida members in the western city of Duesseldorf allegedly working on making a shrapnel-laden bomb to attack a crowded place. Authorities believe the cell's alleged ringleader trained in a terror camp in Pakistan.