German police brace for rival protests after man is killed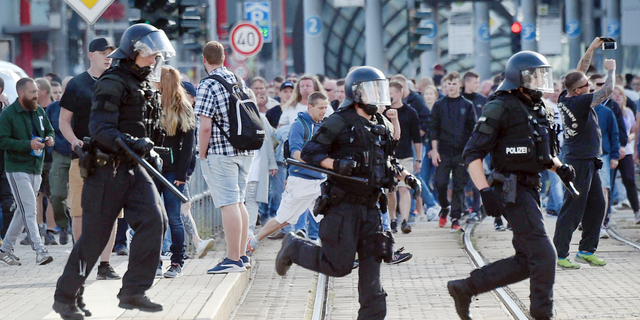 BERLIN – Authorities in the eastern German city of Chemnitz were braced for rival protests Monday amid tensions over the killing of a German man for which an Iraqi and a Syrian have been arrested on charges of manslaughter.
Three men in their 30s were injured in the clash early Sunday, according to Chemnitz police. A 35-year-old German man later died of his injuries.
Prosecutors on Monday said the two men taken into custody — a 23-year-old Syrian and a 22 year-old Iraqi — were being held on suspicion of manslaughter, according to the dpa news agency. Their names and further details were not released.
Authorities said they were still investigating a possible motive for the killing.
Both far-right and left-wing groups planned to protest Monday night, public broadcaster MDR reported.
The killing already sparked spontaneous protests by hundreds of people late Sunday in Chemnitz, a city where almost a quarter voted for the far-right Alternative for Germany party last year. Videos posted on social media appeared to show far-right protesters threatening and chasing passers-by Sunday.
German government spokesman Steffen Seibert condemned the violence.
"What was seen yesterday in parts of Chemnitz and what was recorded on video has no place in our country," Seibert told reporters Monday in Berlin.
"People ganging up, chasing people who look different from them or who come from elsewhere ... is something we won't tolerate," he said. "This has no place in our cities and I can say for the German government that we condemn this in the sharpest possible manner."
Seibert also criticized a far-right lawmaker who had suggested that German authorities were unable to protect citizens.
"There is no place in Germany for vigilantism, for groups that want to spread hatred on the streets, for intolerance and racism," said Seibert.