German mayor condemns New Year sex assaults as 'intolerable'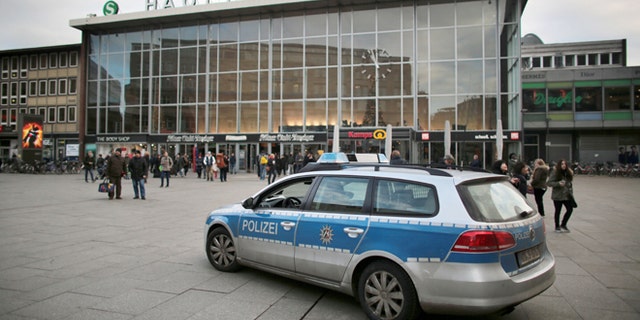 NEWYou can now listen to Fox News articles!
The mayor of Cologne condemned a series of sexual assaults in the western German city on New Year's Eve, calling Tuesday for the perpetrators to be "prosecuted in the toughest possible way."
Henriette Reker spoke after holding a crisis meeting with city and police officials to discuss the assaults.
Police say dozens of women reported being sexually assaulted and robbed around Cologne's main train station, next to the city's famous cathedral, during the night from Thursday to Friday. At least 90 criminal complaints have been filed, including one allegation of rape.
"The actions of the perpetrators were completely intolerable, and so we expect them to be prosecuted in the toughest possible way," Reker said.
According to police, witnesses described the assaults as being committed by men of "Arab or North African origin" who had gathered in large numbers near the train station.
Separately, police in the northern city of Hamburg appealed for witnesses who observed similar sexual assaults and thefts in the St. Pauli district on New Year's night.
Green Party lawmaker Claudia Roth warned against blaming refugees for the assaults. German Justice Minister Heiko Maas, who condemned the attacks in Cologne as "cowardly and vile," also warned against hasty conclusions about the perpetrators.
"In criminal law what's important is proving a crime, and everyone is equal before the law," Maas said. "It doesn't matter where someone comes from, it matters what they did and that we can prove it."
Cologne's mayor said her city would step up measures to prevent similar attacks during the annual carnival festivities next month.
"We will also have to explain our carnival better to people from other cultures, so that there's no confusion about the cheerful behavior in Cologne that has nothing to do with candor, especially candid sexuality," Reker said.