German FM, African Union head say migrant camps not answer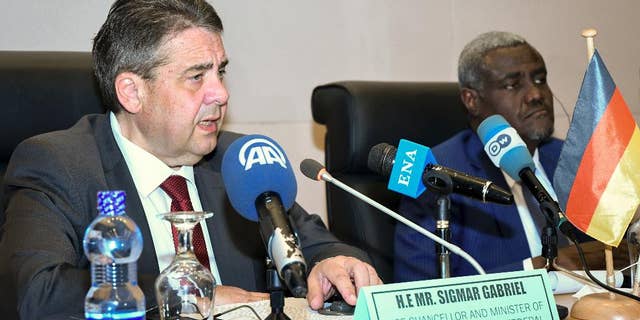 ADDIS ABABA, Ethiopia – Germany's foreign minister and the African Union chief say setting up camps in North Africa will not solve Europe's migrant crisis and that stabilizing African countries is a better strategy.
German Foreign Minister Sigmar Gabriel spoke Tuesday during a visit to Ethiopia, where the AU continental body is based.
AU chairman Moussa Faki Mahamat told reporters it is impossible that migrant camps would stop or even contain the flow of people making their way toward Europe. He said European countries instead should invest in security and job opportunities for youth across Africa.
Gabriel said existing migrant camps in unstable Libya face "horrible conditions" and that African nations that are the source of migrants should be stabilized instead.