George Zimmerman goes all out against Obama for not condemning Virginia shooting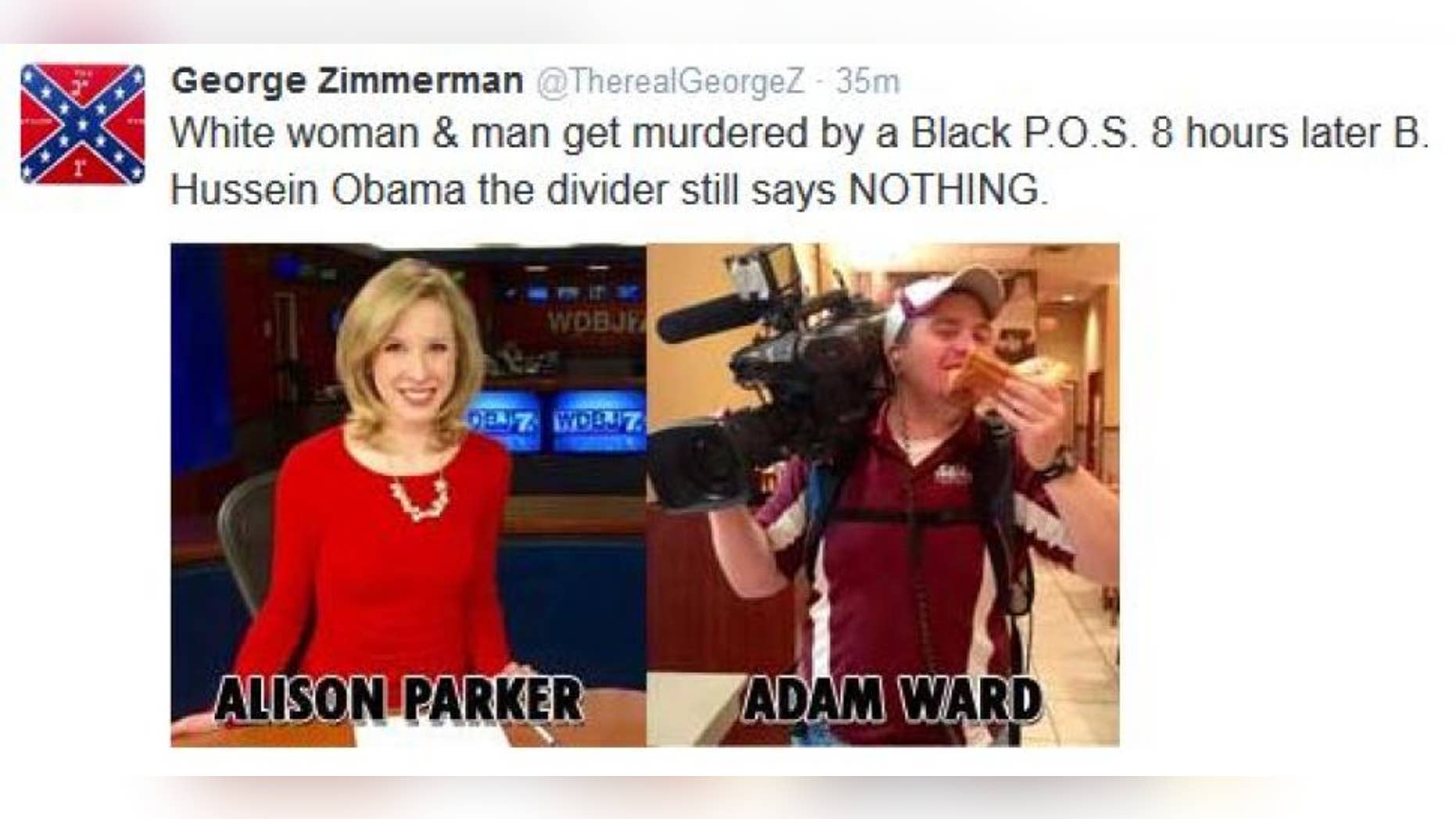 George Zimmerman, the neighborhood watchman who fatally shot unarmed black teenager Trayvon Martin in 2012, is once again going on a racial rant following a national tragedy.
Now he is calling president Obama a racist for not condemning the Virginia news crew killings right away.
On Thursday morning, he posted on Twitter a picture of the killer, Vester Lee Flanagan, with the caption: "If Obama had a son..."
The day before, hours after the shooting, the Florida man tweeted a message confronting the president for his silence and using homophobic slurs referring to the shooter, who was gay.
"Pansy Fester lee Flanagan, too much of a daisy to deal w/racism," he tweeted. "Murders 2 whites. Hate crime, 100%. Racist Obama says nothing condemning."
Later he posted a new tweet, along with photos of the victims, Alison Parker and Adam Ward.
"White woman & man get murdered by a Black P.O.S. 8 hours later B. Hussein Obama the divider still says NOTHING," Zimmerman wrote.
If Obama had a son... pic.twitter.com/GRh4XIn7vr
Zimmerman's account has 6,092 followers and flaunts a confederate flag.
The two young journalists were killed on live television Wednesday by a disgruntled former reporter they once worked with at WDBJ-TV. They were doing an innocent story about the 50th anniversary of a reservoir known as Smith Mountain Lake when the gunman walked up to them and fired. The chilling images of Parker running away were captured on Ward's camera as he fell to the ground.
Zimmerman was acquitted in 2013, a decision that sparked protests and national debate about race relations.
The Justice Department later announced it was not bringing a civil rights case against Zimmerman.
Since his acquittal, Zimmerman has had several brushes with the law.
Those include two incidents involving allegations of assault by girlfriends, and his wife claiming he smashed her iPad.
Charges were either dropped or not pursued because of a lack of evidence in those cases.
The Associated Press contributed to this report.