Gates Delays Russia Trip to Monitor Libyan Crisis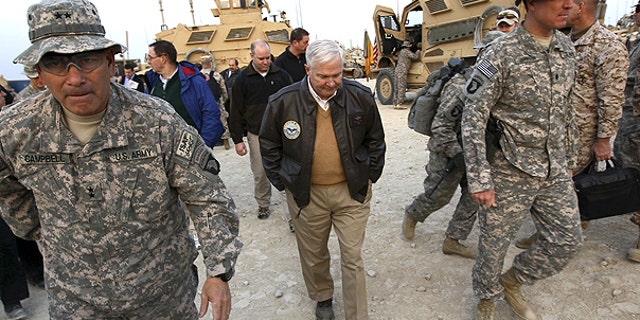 WASHINGTON -- Defense Secretary Robert Gates' final visit to Russia as a member of President Obama's Cabinet comes as the military powers struggle to find common ground on a missile defense shield in Europe.
Gates pushed back his departure to Sunday, a day later than planned, to remain in Washington and keep tabs on the developing situation in Libya, where the U.S. and its allies began military operations to enforce a U.N. no-fly zone.
Moscow helped open the door for action by not blocking the U.N. Security Council resolution -- a move that defense officials said reflected the broader spirit of cooperation between the nations.
Gates' visits to St. Petersburg and Moscow will be especially poignant for the former CIA director, a Russian scholar who's spent much of his intelligence career focused on the then-Soviet Union and the Cold War threat. The defense chief has said he will retire this year, but has not given a date.
It will be Gates' first trip to Russia since the Obama administration pledged two years ago to hit the "reset button" on U.S. relations with Moscow. As part of that effort the White House dumped a Bush administration plan -- vehemently opposed by Russia -- to put 10 interceptor missiles in Poland and advanced radar in the Czech Republic.
The new proposal for a European missile defense shield to protect against future Iranian threats now begins with ship-based, anti-missile interceptors and radars and would add land-based radars in Southern Europe later this year. The four-phase plan would put land- and sea-based radars and interceptors in several European locations over the next decade.
Russian leaders have balked at the missile defense plan, and a senior defense official said Friday that there is still much work ahead to address their concerns. Moscow fears that the system could target Russian warheads or undermine their deterrence strategy.
Russia does not share America's assessment of the missile threat or its immediacy, said the official, who spoke on condition of anonymity because the meetings have not taken place. The two nations have disagreed on how quickly Iran will acquire missiles with sufficient range to threaten Europe, with the Russian saying it will be 15 or 20 years and the Americans saying sooner.
Last month, however, the two countries brokered a new arms control treaty that would limit each to 1,550 strategic warheads, down from the current ceiling of 2,200. The Russians have warned that it could withdraw from the New START deal if the U.S. significantly boosts its missile shield.
Spokesman Geoff Morrell said that unlike Gates' previous three visits to Russia as defense chief, this one will not be dominated by missile defense debate or the new START treaty.
The meetings with Russian Defense Minister Anatoly Serdyukov and President Dmitry Medvedev are likely also to address the latest uprisings in the Middle East, proposals to expand Moscow's assistance in Afghanistan, regional security concerns and ongoing efforts to reform their respective militaries to make them more efficient.