Gas Leak Kills 20 in Latest China Mine Accident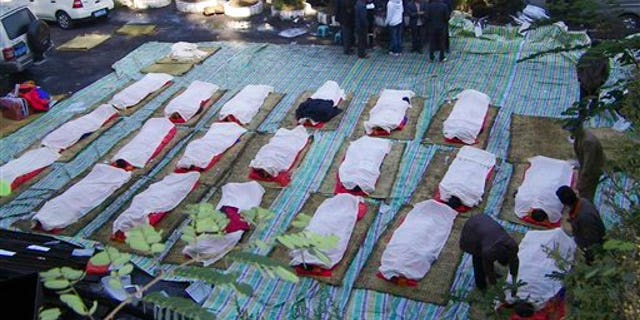 BEIJING -- Hundreds of rescuers took turns descending into an illegally operated coal mine Thursday to search for 23 Chinese miners trapped by a gas leak that killed 20 others, in the country's second deadly mining accident in less than a week.
Coal dust forced out of the mine by the powerful leak blanketed the ground 30 feet around the pit, the official Xinhua News Agency said.
It said the private Sizhuang Coal Mine in Qujing city in Yunnan, southwest China, was operating illegally because its license was revoked a year ago.
Ventilation machines were pumping methane gas out of the shaft to enable rescuers and firefighters to enter. About 300 medical workers were at the scene, Xinhua said.
Dust-covered firefighters coming out of the shaft described descending underground and finding only the 20 bodies, Xinhua said.
An initial investigation found that the gas leak occurred Thursday morning at one platform inside the shaft, and the gas spread to another platform, trapping 43 miners working in the two areas, Xinhua reported.
The accident came less than a week after eight miners died and 52 were rescued from a mine in Henan province after a cave-in. The rescue was the biggest in the country since April 2010, when 115 miners were pulled out alive after being trapped for eight days in a mine in northern China.
China's coal mines are the deadliest in the world, although their safety record has improved in recent years as smaller, illegal mines have been closed. Annual fatalities are now about one-third of the high of nearly 7,000 in 2002.