Gang member who killed Mexican mayor leads investigators to clandestine graves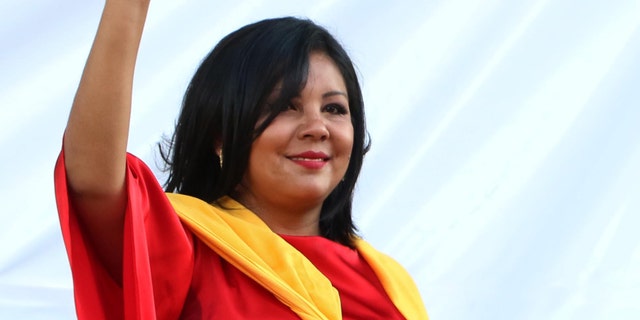 A gang member who confessed to killing a Mexican mayor shortly after she was sworn into office led investigators to two graves where four other bodies had been dumped, prosecutors said.
An official of the prosecutors' office in the southern state of Morelos said investigators have found four bodies in two pits in a rural area.
The official spoke on condition of anonymity because he or she was not authorized to be quoted by name.
The suspect was not named because he is a minor. He was arrested with two other people in the Saturday killing of the mayor of Temixco, a city south of Cuernavaca. The suspect told police he belongs to the Rojos drug gang that apparently killed and buried the four men, who remain unidentified.
The official said the father of Mayor Gisela Mota described the killing, which occurred at the family's home.
A group of armed assailants burst into Mota's house and asked her family which one of them was the mayor. "Mota answered 'that's me,' and that's when they shot her," the official said.
Morelos Gov. Graco Ramirez said on Radio Formula that threats against local mayors have escalated in recent weeks as state police begin taking control of local police departments, many of which have been plagued by allegations that they are on the take of drug cartels.
"This is a message and clear threat to the mayors who have recently taken office not to accept the coordination plan and police framework that we have been promoting," Ramirez told reporters recently.
A video published on YouTube shows an alleged interrogation of one the suspects in Mota's killing in which he admits to being a member of Los Rojos. It seems to solidify claims that the killing was related to a gang dispute.
In the 30-second clip, the young man, whose face was covered, is wearing a shirt that looks to be covered in blood stains and answering questions asked off camera. The unnamed man claims that he and six other people killed Mota under the command of a man known as "El Primo" (The Cousin). He misidentifies Mota as a "lawmaker."
Two of the suspects, one identified as a gang boss with a prior criminal record in Guerrero and Mexico states, were killed, Ramirez said.
"He was a very important hitman in the Los Rojos group and this same cell was the one that dumped a mutilated body in front of the state police offices on Dec. 29 in an act of provocation," the governor said.
Their rivalry may have played a role in the worst mass disappearance in recent memory, that of 43 students in Guerrero in 2014. Some suspects told investigators that Guerreros Unidos mistook the students for members of Los Rojos and used local police under their control to capture them.
The official version of events, which has been challenged by relatives of the victims, is that Iguala municipal police officers detained the students and then handed them over to Guerreros Unidos members, who thought they belonged to Los Rojos, murdered them and burned the bodies.
A local newspaper, La Union de Morelos, cast doubt on Ramirez's motives in an editorial Monday that accused him of opportunistically using Mota's killing "to get around the growing opposition to a model of security whose effectiveness is belied by figures and facts."
The biggest holdout has been the recently installed mayor of the state capital, Cuernavaca, former soccer star Cuauhtemoc Blanco.
Despite Blanco's refusal, Ramirez announced he was imposing state command over Cuernavaca's police, and he suggested dark forces were influencing the pugnacious former athlete, who has never before held public office.
"Behind Cuauhtemoc Blanco there are people who want to take advantage of his lack of experience, to allow crime gangs to enter Cuernavaca," Ramirez tweeted Monday.
The Cuernavaca city government said Monday it would continue to oppose the state plan.
Public Security Commissioner Alberto Capella told The Associated Press that 25 of the state's 33 municipalities are now under unified command, including Cuernavaca. He said Morelos received a petition from officers against Blanco's decision to reject unified command that said, "Don't leave us out there alone."
Ramirez said some mayors in the state had complained that the two gangs had been extorting money from them.
"Some confessed that they had been pressured, some had been kidnapped," Ramirez said. "They (gang members) picked them up and said they wanted three things. They wanted to choose (municipal) police chiefs ... they wanted the public works contracts, and ten percent of the municipal budgets."
Temixco, with about 100,000 people, is a suburb of Cuernavaca, long a tourist haven famed for its colonial architecture, gardens and streets lined with bougainvilleas and jacarandas.
But the rise of drug and extortion gangs has driven away some tourists and residents.
The expressway — and drug routes — between Mexico City and the country's murder capital of Acapulco passes through Cuernavaca and Temixco.
The Associated Press and EFE contributed to this report.