Galapagos volcano erupts, threatening unique and fragile ecosystem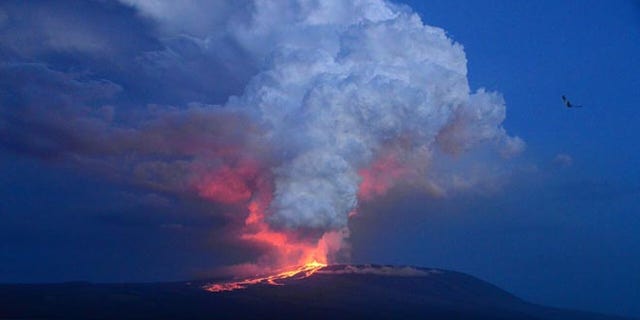 QUITO, Ecuador (AP) – A volcano atop one of the Galapagos Islands has erupted for the first time in 33 years, threatening a fragile ecosystem that inspired Charles Darwin's theory of evolution.
Ecuador's Galapagos National Park administration said the mile-high Wolf volcano began spewing fire, smoke and lava before dawn Monday.
The volcano lies on the northern tip of Isabela Island, the archipelago's largest. It's far from the only population center, Puerto Villamil, 70 miles to the south. Authorities said that no tourist activities were being affected.
Authorities said that the lava, which is flowing in a southwest direction, for now poses no risk to the world's only population of pink iguanas, which live on the island's northwest tip.
Like us on Facebook
Follow us on Twitter & Instagram