From Soda To Air Quality, Bloomberg Comes To Aid Of Mexico — Stirring Quite A Controversy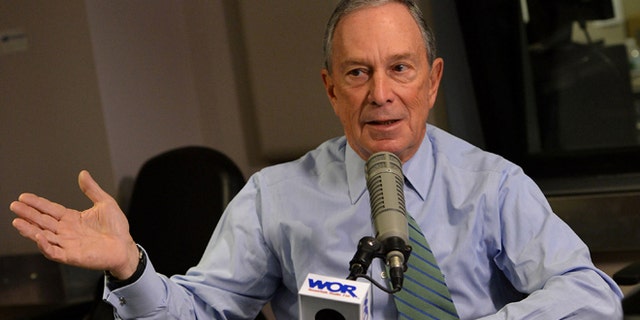 Only a month after leaving office, former New York City mayor Michael Bloomberg is back at tackling city problems. But this time it's not the Big Apple, but the capital of Mexico.
While in Johannesburg, South Africa at a summit of C40 – which brings together nations working to reduce greenhouse gas emissions - Bloomberg met with Mexico City Mayor Miguel Mancera to discuss how the former New York politician's think tank on municipal affairs, Bloomberg Associates, could help open of the world's largest metropolis to provide free advice on transportation and air quality issues as well as urban development.
In March, a team from Bloomberg Associates will head to Mexico and the former mayor is planning a trip in May.
Arguably Bloomberg's most controversial measure while mayor of New York City, the so-called soda tax, was proposed last year by Mexican President Enrique Peña Nieto soon after the country was named the fattest nation in the world.
Peña Nieto's proposal to raise $950 million from the soda tax has drawn the beverage industry's wrath in the country with the world's highest yearly soda consumption; the average Mexican consumes 163 liters (43 gallons) of soft drinks annually.
The government wants to use tax income to install water drinking fountains in schools, most of which don't have them.
Soft-drink bottlers, retailers and sugar growers have purchased full-page ads and broadcast media spots opposing the measure. Some ads targeted Bloomberg, who unsuccessfully backed a state tax on soft drinks, then a ban on large sodas in New York City.
"No to the Bloomberg Tax," read the large type of several ads published in Mexico in recent days.
"Bloomberg ... has the right to be crazy, but he doesn't have the right to come here and impose his craziness on us," said Cuauhtemoc Rivera, leader of Mexico's National Association of Small Stores, a little-known business chamber that bought full-page ads in Mexico's main newspapers for several days.
Rivera acknowledges that big soft drink bottlers and sugar growers have contributed to the anti-tax ad campaigns. "Between us all we are financing this campaign," Rivera said.
Bloomberg Philanthropies says it has donated $10 million in an effort with "top research and advocacy organizations" to support goals such as "raising taxes on sugar-sweetened beverages." But Bloomberg's group would not say how much, if any, of the money went for ads in Mexico.
The anti-tax side, though, has taken out far more ads than pro-tax advocates.
The beverage industry is among the biggest retail money-makers and ad buyers in the country. Rivera estimated that soft drink sales account for 40 percent of income at small Mexican stores.
Mexico's largest soft-drink bottler, Coca Cola-Femsa, says it hasn't purchased any ads in its own name. But Coca Cola-Femsa spokeswoman Guadalupe Gonzalez said in an email that Mexico's National Soft Drink and Bottled Water Producers' Association, to which the company belongs, has run ads, along with cane growers and retailers.
The Associated Press contributed to this report.
Follow us on twitter.com/foxnewslatino
Like us at facebook.com/foxnewslatino